Hong Kong Buddhists' release of animals into wild needs regulating, Kadoorie Farm says
South China Morning Post, 16 May, 2016
Conservationists say release of captured animals to earn merit causes suffering, with many of them dying, and releasing non-native species threatens indigenous wildlife through disease

Hong Kong, China -- Hong Kong needs to regulate the practice of mercy release – the release of captured animals into the wild – if it is serious about protecting biodiversity, says a Hong Kong nature organisation. The practice is common among Buddhists, who believe it brings good karma.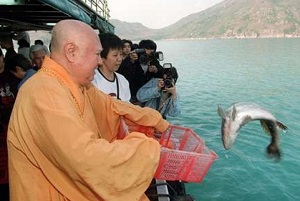 << A Buddhist ceremony in which fish were released off Sai Kung. Photo: Robert Ng
Kadoorie Farm and Botanic Garden says mercy release – also called fang sheng (life release) or merit release – which is practised throughout the year, including on Buddha's birthday today, has created a thriving industry for those who trap, trade, and sell animals for release – mostly birds, fish, and turtles, with many taken from the wild to be sold for release. It says released animals – some of which are non-native – threaten the survival of native wildlife by spreading disease.
Hong Kong has no legislation regulating the practice, although it is an offence to release anything into reservoirs under the authority of the Water Services Department.
The Agriculture, Fisheries and Conservation Department discourages the release of animals into the wild. "This affects the equilibrium of the local ecosystems and is detrimental to animal welfare and may spread diseases," a spokesman said.
It says it will continue to monitor the situation and seek to raise public awareness of the issues.
Wendy Higgins, of the UK-based Humane Society International, says the original concept behind mercy release was a spontaneous act of kindness towards animals, but it now runs contrary to that, and actually causes suffering.
"Millions of wild animals worldwide are captured for the purpose of being released. These poor creatures can sustain fatal injuries in traps or nets during capture, or die from being crushed, suffocated or dehydrated while packed tightly into crates or cages during transport. Those who survive the release often die soon after from exhaustion, injury or disease. There's nothing merciful about this practice."
The Hong Kong Buddhist Association says people should avoid life releases if others are profiting from it. "Groups or individuals should consider whether the animal will be hurt or the release will cause environmental destruction," it says.
"We run life release activities every month: we buy the fish from the fishing boat, quantity and amount based on the donation received, and the fish will be released back to the sea to the east of Hong Kong waters," the association says.
Kadoorie Farm says alternatives to mercy release include planting trees and working with rescue and rehabilitation centres for wildlife.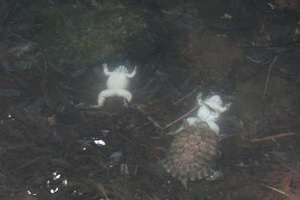 << Dead Chinese edible bullfrogs and red-eared slider turtles like these, found near Kadoorie Farm in Tai Po district, are regularly seen in Hong Kong following Buddhist mercy releases.
In Hong Kong, just over one in five adults are Buddhists.
In 1997, under the leadership of then chief executive Tung Chee-hwa, a Buddhist, the Hong Kong government formally recognised Buddhism in Hong Kong and designated Buddha's birthday as a public holiday, replacing the British queen's birthday holiday.
According to the SPCA, an estimated 680,000 to 1,050,000 birds are released in Hong Kong every year.
In Thailand it has been reported that animals sold at markets by vendors for mercy release are recaptured and resold by the same vendors.
In Singapore, it is illegal to release any animal into public parks, reservoirs, or nature reserves.
Kadoorie Farm says "upset" staff have discovered dead turtles and fish as well as birds near its New Territories farm, the victims of mercy release.
It says popular sites in Hong Kong for release are freshwater streams as well as the open sea from North Point ferry terminal or Aberdeen. Common species released include the red-eared slider turtle, Chinese bullfrogs, snakes, sparrows, groupers, crabs, crickets and grasshoppers.
"Invasive species, such as the red-eared slider turtle, a native North American species and a popular choice for mercy release, will compete with local species for food and shelter," it says. "You can get these animals from wet markets anywhere in Hong Kong or pet shops in Mong Kok and Yau Ma Tei."