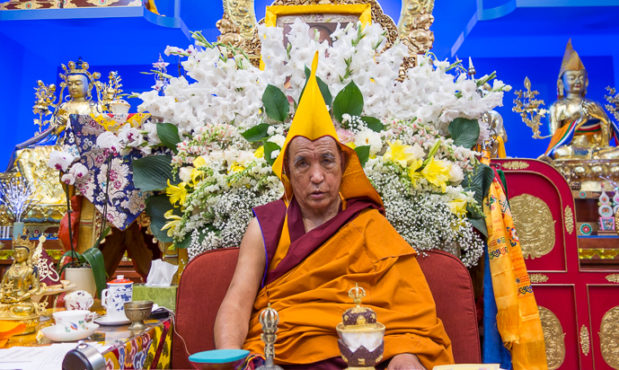 << 104th Gaden Tripa Kyabje Jetsun Lobsang Tenzin Palsangpo
The appointment was necessitated by the sudden demise of 103rd Gaden Tripa Jetsun Lobsang Tenzin Rinpoche who passed away on 21 April before completing his full seven year term.
The Gaden Tripa 'Holder of the Gaden Throne' is the title of the spiritual head of the Gelug school of Tibetan Buddhism. Je Tsongkhapa (1357–1419), who founded the Gelug school was the first Ganden Tripa. The lineage has, since, been held by the Gaden Tripas.
The Gaden Tripa is an appointed office, not a reincarnation lineage. It occurs once every seven years (completion of term) or earlier (due to unforeseen events like death). The title is bestowed alternately on one or the other of the two Chojeys – Sharpa Chojey or Jangtse Chojey. The appointment is based on academic merit which is the basis of the hierarchical progression.
Although the appointment of Gaden Tripa is automatic, it is usually confirmed by His Holiness the Dalai Lama who publicly announces the appointment or nomination at the time of changeover.
Biography of 104th Gaden Tripa Kyabje Jetsun Lobsang Tenzin Palsangpo
Kyabje Jetsun Lobsang Tenzin Palsangpo was born in Tibet in 1934, Rinpoche was ordained as a monk at the age of seven. Following His Holiness the Dalai Lama into exile in 1959, he entered Sera Je Monastery where he was enrolled into Tsangpa Khangtsen at the age of seventeen.
Following a rigorous study of the Buddhist philosophies, he obtained the highest honor of Geshe Lharampa degree in 1979 after debate examinations attended by His Holiness the Dalai Lama and other senior Buddhist scholars.
Ater receiving the Geshe Lharampa degree, he entered Gyume Tantric University and two years later became a master of discipline. Rinpoche also studied the esoteric teachings of the Mahayana tradition extensively while he was there at Gyume Tantric University.
In 1985, His Holiness the Dalai Lama appointed him as the abbot of Gyume Tantric University, a position he held for 6 years.
Since then he has taught widely in India and the West. He was also the Spiritual Director at Do Ngak Kunphen Ling dharma center based in North America.
He was appointed to the position of Jangtse Choje in 2010, which placed him second in line for the position of Gaden Tripa after former Sharpa Chojey late Jetsun Lobsang Tenzin at that time.