Zen offers philosophy of life
China view, July 4, 2005
BEIJING, China -- Do everyday annoyances get to you? Do you find breathing harder because of high pressure from work or study? A Zen Buddhist temple in Hebei Province might be a good place for modern people to relax and ease their minds.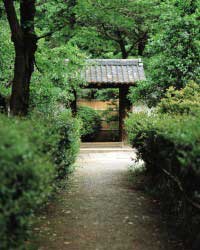 The Bailin Temple in Zhaoxian County, one of the largest Zen temples in China and four hours' ride south of Beijing, has received an increasing number of visitors from home and abroad, in recent years.
Xia Zehong, a Beijing resident in her late 30s, is a regular visitor to the temple. She still remembers her first visit 10 years ago.
"When I first entered the temple, I felt myself in a quiet wonderland," recalled Xia, who runs a restaurant in Beijing. "There were clean grounds, ancient cypress trees, blue sky, and above all, everybody there was smiling and kind, ready to help others - a sharp contrast from those I met in my daily busy life.
"I think Zen is a life philosophy, like a lamp to lighten my life and free me from worries."
Zen, or Chan, is a school of Buddhism. The sect was founded by Indian Master Bodhidharma during the Northern and Southern Dynasties (420-589).
To spread Zen Buddhism, the Bailin Temple has introduced the concept, the "Zen of daily life," said Master Jinghui, the abbot of the temple.
"The Zen of daily life lies in promoting the true, the good and the beautiful things in life and searching for transcendence and serenity," Jinghui said.
"Thanks to policy support from the government, the temple has been renovated and expanded in recent years, and Buddhist followers and non-followers can communicate freely," Jinghui said.
Every day, especially on weekends, hundreds of people visit the temple, paying their respects to Buddha, listening to the preaching of the masters and teachers or just relaxing in the garden-like temple, which offers free entrance and free parking to everybody.
One of the most attractive events organized by the temple is an annual "Summer Camp on the Zen of Daily Life." Since 1993, the summer camp has attracted an average of more than 250 people each year, most of them youngsters aged between 18 and 30.
During the seven-day temple life, the participants take part in a series of activities, including performing daily morning and evening rituals, practising meditation, listening to lectures on Buddhism, discussing with others, singing Buddhist songs, copying sutras and trekking.
This year's summer camp is scheduled in late July, and more than 300 people are expected to participate, including some foreigners.
Two Swedes, Johnny Peterson and Daniel Odier, who came to the temple and were tonsured by Master Jinghui last year, are expected to join the summer camp in July.
Bailin Temple was first built in the Eastern Han Dynasty (AD 25-220) and has been destroyed and rebuilt many times. The temple re-opened to the public in 1988.
In 1998, the Hebei Buddhist Academy and Hebei Zen Research Institute were founded in the temple and now more than 120 student monks are studying there.
The flourishing development of Zen Buddhism has helped preserve Buddhist culture and promote cultural exchanges and communication between Chinese people and people from other countries and regions, said Zhang Baoyan, director of the Hebei Provincial Ethnic Minorities and Religious Affairs Bureau.