Women face choice ? nun or prostitute
By Lindsay Beck, Reuters, August 21, 2005
Shigatse, Tibet (China) -- IT'S evening in Shigatse and the lights are coming on. In the Chinese district of the Tibetan mountain town, strings of fairy lights flicker around rows of shopfronts where women perch waiting for customers and men stumble out from backroom corridors.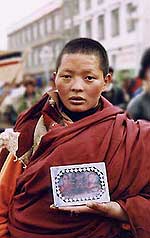 << A Tibetan nun
"There are a lot of prostitutes here. They're all from the countryside. Maybe they don't have parents to look after them or anything else to do," says Jirga, an 18-year-old vendor.
Hundreds of kilometres away in a nunnery in Tibet's capital, Lhasa, a group of young Buddhist nuns sit stitching metres of maroon cloth into the robes that are the iconic uniform of the clergy.
"The life here is very good. If I wasn't doing this, I'd probably be a farmer," said nun Ani La, 30, speaking over the din of a thunderstorm that rolled in from the mountains.
The Lhasa nuns and the prostitutes of Shigatse may have little in common on the surface, but both are part of the same demographic group – young, rural, Tibetan women – and analysts say their ranks are growing.
As development draws herders and farmers to towns in search of wage labour, Tibet's women find themselves with few choices and little know-how for getting by in a market economy.
"Often where there is a concentration of nuns there is concentration of sex workers. The same forces are drawing young women away from villages," said Charlene Makely, a Tibet specialist at Reed College in the US state of Oregon.
Jirga, the vendor, shakes her head when asked how much schooling she has had. The answer is none. Her parents run a small stall selling jewellery and trinkets and she was raised to do the same.
At the Lhasa nunnery, more than 100 nuns live within the quiet yellow courtyard filled with potted plants and the sounds of chanted prayers, an oasis from the jumble of narrow streets of the city's old quarter.
Of the eight children in Ani La's family, three are nuns and two are monks. The others work on the family farm and one is a driver.
"This nunnery is popular because it's in the city, but the ones in the countryside are pretty popular now too," she said.
The nuns say their numbers have grown by a third in the past decade and would be higher if it weren't for government restrictions, imposed as part of a series of controls to keep nuns, who along with monks have a history of political activism, in check.
China imposed Communist rule in Tibet in 1950 and has faced periodic unrest since. Tibet's spiritual leader, the Dalai Lama, led a failed uprising in 1959 that led to his exile. Trouble flared throughout the late 1980s, too.
Most famous among Tibet's activist women were the "singing nuns", imprisoned for speaking out against Chinese rule and who became renowned after secretly recording songs in prison. The tapes were smuggled out and circulated underground.
The last of the singing nuns was released in 2004.
But in Tibet, where rural incomes are well under a dollar a day, some young women don't make it as far as the nunnery in their efforts to find security.
Their flight from village poverty ends in the sex trade.
"Men can go outside and look for work but for women it's not that easy. They can't do that," said 19-year-old Da Wa Qu Zong, who lives with relatives in Lhasa, looking after their son.
Many grow up in remote villages or in nomad families, herding yak and doing farmwork as Tibet's cities and towns experience a boom fuelled by massive central government investment – a boom critics say benefits more skilled Han Chinese migrants at the expense of Tibetans.
"Tibetans are not only poorer, their extremely low level of education makes their chances of getting a steady and lucrative job in the cities as good as nonexistent," the Tibet Information Network said in a report documenting the rise in prostitution.
"In Tibet, prostitution is not just a symptom of poverty, but is triggered also by the growing prosperity of the few," the report said.
It's also a problem officials are loath to recognise, let alone begin to address.
"There is no prostitution here," said Bian Ba Ci Ren, an official in Shigatse. The government compound where he addresses reporters is just blocks from the city's red-light district.
HIV/AIDS cases are below 100 in the region, according to World Health Organisation figures. But views such as Bian Ba Ci Ren's have raised concerns the disease could spread, especially as the number of sex workers increases.
The official's pronouncement will also come as news to the young women in the shopfronts of Shigatse's euphemistically named "beauty parlours".
"I'm used to it by now," says one woman from the countryside when asked about what she thinks of her city vocation.
She returns to watching the street, where groups of men stumble drunkenly from shop to shop, leering at the women in the doorways.