Famen Temple holds ceremony for returned Sarira from South Korea
Xinhuanet, Dec 21, 2005
XI'AN, China -- After 40-day enshrinement in the Republic of Korea (ROK), the Buddhist finger Sarira returned to Famen Temple where the relic was discovered 18 years ago. About 1,000 Buddhists from China and the ROK held a grand receiving ceremony at the temple on Wednesday.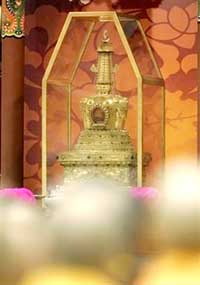 At the invitation of the ROK Buddhist association, China's state treasure, the Buddhist finger Sarira had been enshrined in Seoul and Busan since November 11.
The 2,500-year-old finger, one of China's most precious cultural relics, had attracted 1 million Koreans to come around paying respects and praying for good fortune.
The ceremony was chaired by Master Monk Xue Cheng, vice president of the China Buddhist Association. This consecration has helped further advance the friendship and mutual understanding between the two countries, Xue said.
The enshrinement of the Buddhist finger Sarira in the ROK is animportant event in the 1,600-year history of friendship between the two countries. It has posed a rare opportunity for the Buddhists from the two countries to look forward to more promising bilateral relationship," said Master Monk Hui Ci from the ROK, whois in charge of the escort.
The Buddhists from China and the ROK saluted the images of the Buddha and read aloud sutras of the Buddhist classics at the ceremony.
The Sarira has been confirmed by archeologists as the middle finger of the left hand of Sakyamuni, which was enshrined by the imperial families in the Tang Dynasty (618-907). It was unearthed from an underground palace found in the Famen Temple in 1987.