More Beijingers Go to Lama Temple on 1st Day of Lunar New Year
Xinhua News, Jan 30, 2006
Beijing, China -- A Lamasery of Tibetan Buddhism attracted the largest number of visitors in Beijing on Sunday, the first day of Chinese lunar New Year, latest official figures showed.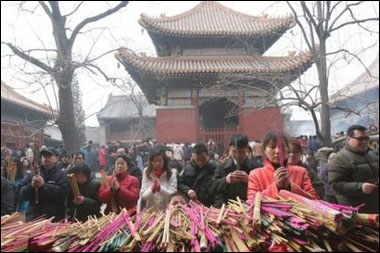 << Chinese worshipers burn incense at to celebrate the lunar new year during Spring Festival festivities at the Lama temple in Beijing Sunday, Jan. 29, 2006. The Spring Festival falls on the first day of the first lunar month, often one month later than the Gregorian calendar. It originated in the Shang Dynasty (1600 BC -1100 BC) and it is the most important festival for the Chinese people. Photo: AP
A total of 45,000 people visited Yonghe Lamasery to pray for happiness in the new year, up 16 percent over that for the first day of last traditional Chinese New Year, according to figures released by the Holiday Affairs Office of the Beijing Municipal Government.
The temple, which used to be an imperial palace of the Qing dynasty (1616-1911), was turned into a Tibetan buddhist temple 1744 as ordered by Emperor Qianlong, according to an article posted by the temple on its official website.
Only 19,700 people visited the Forbidden City, up 13 percent.
The Forbidden City used to be imperial palaces for the dynasties of Ming (1368-1644) and Qing.
About 38,000 people visited Shijingshan Amusement Park in western Beijing, where temple fairs are being held for the new year holiday.
Other public venues that reported substantial increase of visitors include Tiantan Park (6,000), and Beijing Ocean aquarium (2,000), up 39.8 percent or 17.2 percent, respectively.
The Beijing Capital international Airport reported arrivals of 36,121 on Sunday, and 54,749 people left Beijing by air.
The occupancy rate of major hotels in Beijing averaged 27 percent on Sunday; the rate was 23 percent for smaller ones, but 37 percent for holiday hotels in the suburbs.