World Buddhist Forum ends
Xinhua, April 16, 2006
HANGZHOU, China -- The World Buddhist Forum, the first of its kind on the Chinese mainland, ended Sunday in the island city of Zhoushan in east China and adopted a declaration calling for world peace.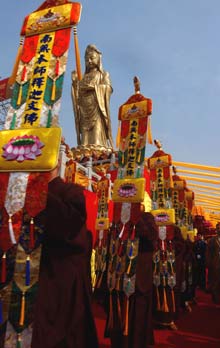 << Some 1,000 dignitaries and guests from different countries and regions attend a grand prayer for world peace, also the closing ceremony of the First World Buddhist Forum, in Mount Putuo, east China's Zhejiang Province, April 16, 2006. (Photo: Xinhua)
At the closing ceremony, 108 Buddhist masters hosted a grand ritual to pray for world peace and paid respect to Buddhist relics given by Taiwanese monks.
Thousands of followers chanted mantras at the foot of a 33-meter-tall Goddess of Mercy statue.
Over 1,000 monks and experts from 37 countries and regions attended the April 13-16 forum, giving speeches or participating in discussions under the theme of "A harmonious world begins in the mind".
The concluding Putuoshan Declaration underscored that peace is humanity's eternal hope and harmony is a desirable state.
"Everyone is responsible for world harmony, which begins in the mind," it said.
During the forum, the first in 2,000 years of Buddhism in China, the 11th Panchen Lama, Bainqen Erdini Qoigyijabu, a high-ranking living Buddha of China's Tibetan branch of Buddhism, said, "Defending the nation and working for the people is a solemn commitment Buddhism has made to the nation and society."
Eight disciples from the mainland, Hong Kong and Taiwan proposed the World Buddhist Forum in China in 2004, a suggestion that won support from Buddhist circles in countries like Japan and the Republic of Korea.
Eighty-year-old Master Hsing Yun was one of the movers, leading more than 100 monks from Taiwan. Enduring the pain of broken ribs after he slipped in Taiwan, he insisted on attending and called on Buddhists to facilitate cross-Strait communication.
"Every time I meet the mainland people, I feel I am meeting my own family," he said.
The forum, said participants, served as a platform for equal, open and diversified high-level exchanges for adherents.
It was also significant in enhancing understanding across the Taiwan Straits and promoting China's peaceful reunification.
"Buddhism helps people to overcome pain. The deepest pain that Chinese people feel now is the pain of separation from loved ones, one of the eight pains in Buddhism," said Ye Xiaowen, president of China's Religious Culture Communication Association.
"The successful convention of the forum will be recorded in the history of Chinese and world Buddhism," said Jiamuyang Luosangjiumei Tudanquejinima, vice-president of China's Buddhist Association.
Many participants will fly to Shanghai Monday to attend China's first symphony concert of Buddhist music.