Renewed Faith
BY HANNAH BEECH, Time Magazine (Asia) , April 24, 2006
As their society becomes more material, growing numbers of Chinese are turning to religion for spiritual fulfilment
Shanghai, China -- Everything is for sale on nanjing Road. Shanghai's version of Fifth Avenue offers diamond rings from Tiffany, halter tops from Vivienne Westwood, even fresh sea urchin flown in from northern Japan. One of the most coveted items, however, is a certificate handed out for every 150 yuan ($19) donated for the construction of an $18 million, 2,000-kg gold Buddha at Nanjing Road's Jing'an Temple.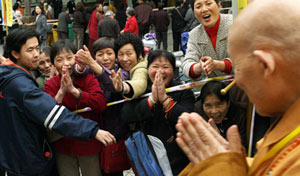 << DEVOTED: Hangzhou residents greet a monk visiting the city for the World Buddhist Forum
The donation certificates are flying off shelves faster than Gucci wallets. Since 2002, the temple has collected 180,700 contributions from people who want to exchange part of their newfound wealth for spiritual sustenance. "Our society is in need of religion," says Cao Pingjiang, the director of the gold-Buddha project. "People are searching for something besides money to worship, and Buddhism has a long history in China."
China's officially atheist Communist Party couldn't agree more. As the country tackles the negative side effects of two decades of unfettered economic growth—most notably a growing urban-rural income divide and burgeoning social unrest—Beijing's leaders are looking to soothe the masses by filling a spiritual vacuum left by the demise of Marxist ideology. In landmark comments earlier this month, China's top religious official, Ye Xiaowen, rejected decades of state ambivalence toward religion by telling the state's Xinhua News Agency that "religion is one of the important social forces from which China draws strength." Ye singled out Buddhism for its "unique role in promoting a harmonious society"—China's catchphrase for promoting social development along with economic expansion. The same week as Ye's comments, the World Buddhist Forum, the first-ever conference on religion in Communist China, convened in the eastern city of Hangzhou.
By allowing—and even condoning—such overt expressions of spirituality, China's leaders are finally catching up with the country's religious revolution. Even by the government's own conservative estimate, China now has more than 200 million worshippers of all faiths, double the number just nine years ago. The inroads made by apocalyptic Christian cults in China's countryside have garnered more international attention, but the larger trend is the renaissance of Buddhism and folk religions, which blend Taoism, Confucianism, shamanism, ancestor reverence and local-deity worship into a potent mix of spirituality. More than half of the nation's believers follow these local faiths. "China's religious traditions are much longer than its Communist past," says Yang Li, an assistant professor of religion at the Chinese University of Hong Kong. "People still remember the old rituals and now they want to practice them again."

For decades, the People's Republic really only had one higher power: Mao Zedong. After the 1949 Communist revolution, Mao declared that religion was a "feudal superstition" with little place in a modern Marxist society. Although five official religions were allowed—Buddhism, Taoism, Islam, Catholicism and Protestantism—they were tightly circumscribed and had to express fealty to the Communist state before any divine entity. During the 1966-76 Cultural Revolution, believers of these watered-down religions were attacked. Red Guards razed thousands of temples, churches and mosques. Shanghai's Jing'an Temple was converted into a flour factory and portraits of the Great Helmsman replaced those of the Buddha.
---
"China's religious traditions are much longer than its Communist past. People still remember the old rituals and now they want to practice them again."
Yang Li, Asst. Professor, Chinese University of Hong Kong
---
But as China diluted its socialist purity by embracing economic reforms, religious controls began easing as well. The skylines of Chinese towns now teem with temples, shrines and churches. In Shanghai alone, at least 25 Buddhist temples have been built or renovated since 2000. Other cities are also being transformed. In the seaside town of Quanzhou in Fujian province, where Nestorian Christians and Manicheans practiced their faiths during the Silk Road's heyday, one of the city's oldest clans, the Wangs, built a shrine in the 11th century to honor their family. But the sanctuary was converted into a stable during the Cultural Revolution. Today, it has been rebuilt with more than $100,000 in donations from a vast diaspora of Wangs all over the world, who want a place to venerate their ancestors. "My parents worshipped Chairman Mao," says Su Min, a 31-year-old tourism official who prays twice a month at the Zhenwu Taoist Temple near Quanzhou. "Then we believed in [former Chinese leader] Deng Xiaoping because he brought economic reforms that made our lives better. But now after Deng, we don't have anyone to believe in, so we have turned back to religion."
China's religious freedom is by no means absolute. Seeking personal salvation is fine, but public displays of religiosity outside the confines of state-controlled institutions are not. China's history is filled with religious uprisings against the state, like the millenarian cults that helped usher out China's last imperial dynasty, the Qing. Hence the continuing crackdown against the meditation movement Falun Gong or the raid last month on an unofficial Bible study in central Henan province that was termed "evil cult" activity by the police. In northwestern Xinjiang, where the Chinese government is fighting a separatist movement by the Uighur ethnic group, Muslim activity outside of state mosques is suppressed and offenders sometimes jailed. Nor do Tibetans have free rein to worship the Dalai Lama, who was not invited to the World Buddhist Forum in Hangzhou two weeks ago. The main speaker was the Beijing-appointed Panchen Lama, who in 1995 was named by the Chinese in place of the child monk the Dalai Lama himself had chosen for a key position in the Tibetan Buddhist hierarchy. Even in the new China, it is Beijing—and not any other higher power—that possesses the mandate of heaven.
Nevertheless, the vast majority of Chinese feel little restriction in voicing their growing faith. "My previous goal in life was to earn lots of money," says Zhou Jun, a Shanghai entrepreneur who runs a solar-heating company and converted to Tibetan Buddhism in 2004. "But now after studying Buddhism, I realize there is much more to life, and I want to share that lesson with everyone." Zhou now donates a chunk of his earnings to build new Tibetan Buddhist temples in western China, and has imparted the Buddha's teachings to his business partners. Tempering a capitalist impulse with a quest for inner peace jibes with the Chinese government's own shift from a development model based mainly on high GDP-growth rates to one in which overall quality of life is also taken into consideration.
Equally important is religion's role as a safety net, especially when the government no longer provides free social services for its most impoverished citizens. Buddhist monasteries, which now shelter an estimated 200,000 monks, are reporting an influx of children whose parents feel the cloistered life is the best way to get their kids fed and educated. Others are spending what little money they have to court the gods. On the outskirts of Quanzhou, where locals pick tobacco leaves for a living, poor villagers have banded together to build a shrine to Kwanyin, the goddess of mercy. "We need her help," says farmer Zhou Bigong. "We work hard, but life is getting harder and harder." When Zhou was younger, openly worshiping Kwanyin wasn't allowed. Now, the goddess is back to nourish a whole new generation of devotees.
------------------------------------------------
With reporting by Bu Hua/Shanghai, From the May. 01, 2006 issue of TIME Asia Magazine