Sister of mercy
by Claire Scobie, Sunday Times, May 28, 2006
Travelling in disguise to holy sites and forced to denounce the Dalai Lama, Ani is one of thousands of Tibetan nuns who, under Chinese rule, risk daily persecution for their faith. Claire Scobie tells her story
London, UK -- For three weeks we had been in the mountains – no cars, no aeroplanes, only silence. Then we descended, and there, waiting for us at the base of the forest trail, were a dozen Chinese soldiers. They threatened us with their guns and fired rounds into the air. Herded like animals, Ani the Tibetan nun and I were forced into an army truck. Our party was under arrest, accused of spying in one of Tibet's most sensitive military regions. As the lorry grunted downhill I turned back for one last glimpse of the valleys. But the hidden lands of Pemako had already disappeared and, like a curtain, the mist came down.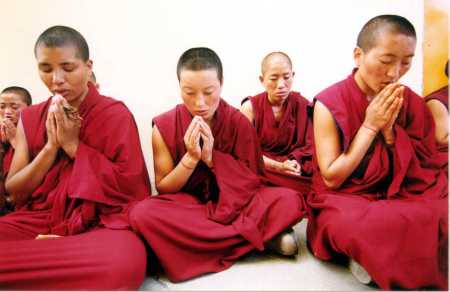 << Tibetan Buddhist nuns (File pic)
This was far from how I imagined a journey to the "Promised Land of Tibetan prophecy" would end. I had first gone to the mountains that border the area in search of a rare red lily. Nestling in the eastern Himalayas in southeast Tibet, Pemako, 400 miles east of the capital, Lhasa, is a sacred place of pilgrimage. It is where the myth of Shangri-la was born; it is also a "special military zone" straddling the disputed border with India.
What did not end in that moment was an extraordinary and continuing friendship with Ani. From the moment I first met her, I was intrigued. On her head she wore a battered straw hat; on her slender wrists were bracelets engraved with sacred symbols. Unlike most Tibetan Buddhist nuns, who reside permanently in a nunnery, Ani is nomadic. She spends her days alone, begging for alms, sometimes sleeping in the snow, living in caves for years at a time, meditating in darkness, covering the vast distances of Tibet – an area the size of western Europe – mostly on foot. She carries a knapsack and gnarled walking stick; she wears knee-high boots made from coarse red wool with soles of beaten yak leather. Underneath her staid wine-red nun's attire, she wears a racy yellow-and-green underskirt – a nod to her exuberant teenage self.
Such a way of life is perilous in Tibet, where religious freedom is rigorously suppressed. Despite being expelled from her nunnery – "kicked out like a dog" – she pursues her vocation and travels to pilgrimage sites in disguise to avoid harassment from the police. We would have seemed unlikely companions.
We could not speak the same language.?Our backgrounds, lives and beliefs could not be more different. As far as I know, I'm the only English woman to have set foot in Pemako.
Ani had spent more than a year living in the region's valleys. She follows a lineage of wandering hermits, and in all her years on the road she has never met another itinerant nun like herself. She told me: "This way of life is dying out and the tradition is ending in Tibet. Lineages were broken during the Cultural Revolution. I do feel sad and worried. The main problem is the lack of freedom and the political situation."
Before that first visit to Tibet, I had no idea that there were places in the world still unexplored, places where someone like me – unfit and afraid of heights – could go. That was back in June 1997, when, at the age of 25, I had been invited to join a plant-hunting expedition. Scores of British garden species – rhododendrons and magnolia, camellia and lilies – originate in the Sino-Himalaya region. Ken Cox, a third-generation plant-hunter, told me about the little red lily. "Lilium paradoxum has never been introduced to the West," he said. "There's nothing else like it."
Six weeks later, having found my lily, I also found myself back in the same remote region, this time on a pilgrimage into the "hidden valleys" of Pemako. Home to bears and snow leopards, long-tailed monkeys and Bengal tigers, Pemako is a terrain that extends from snowfields to subtropical jungle. There were seven westerners in our team, a Tibetan guide, sherpas from Nepal, and about 30 local porters to carry our luggage. Given Ani's unique knowledge of the area, the American group leader invited her to act as our unofficial spiritual guide. Our destination was Pemashelri, the "lotus crystal mountain", which lay somewhere south of Namcha Barwa, until 1992 the highest unclimbed mountain in the world, standing at 25,436ft. We had three weeks to complete the journey on foot, following the river known as Yarlung Tsangpo south towards the Indian border. Every day we trekked, contending with leeches, biting moths, stinging gnats and, at first, constant rain. When we walked, Ani maintained a slow, rhythmic gait, turning the beads of her rosary and murmuring under her breath. She showed me which leaves to use as toilet paper and which to avoid, pointed out berries that could be eaten and those that were poisonous. More than once I slipped, and Ani saved me from a nasty fall. We communicated with gestures, eye contact, broken words of Tibetan. When the Tibetan guide was with us, he would translate details of Ani's life.
I learnt that she was the fifth of nine children and grew up in a large, black tent spun from yak hair. From an early age she was an animal herder. Her parents, it would seem, sheltered her from the worst excesses of the Cultural Revolution, which began in 1966, when she was five, and saw the wholesale destruction of Tibetan culture and religion – a time etched on the collective memory as "when the sky fell to the Earth". Ani's grandparents became the subject of vicious thamzing (political struggle) meetings, when they were called to speak against the "old" Tibetan society and confess their guilt (for involvement in reactionary activities), and her own life was turned upside down. Accused of being rich nomads at a time when fame and prosperity were targeted as enemies of the Proletarian Revolution, they were taken away and tortured by the People's Liberation Army.
I asked if that made her angry. "My lama told me, 'no compassion, no enlightenment'," she replied. "You have to look at your enemy as your teacher, as a method of developing compassion." At the age of 22, Ani defied her parents' wish – that she marry the son of a nomad family – and ran away to become a nun. The Cultural Revolution had ended barely seven years before, and all that remained of the nunnery she joined was a roofless temple. In such an unpredictable climate, choosing to become ordained was potentially fraught with danger. The same is true today.
Over the weeks our friendship grew. And then our group was arrested. For two days, five Chinese soldiers, each carrying an M16 automatic rifle, frogmarched us out of Pemako. Once out of the valleys, we faced three days of interrogation by the Public Security Bureau (PSB). In charge of the proceedings was a Tibetan police officer who switched between charm and menace. He questioned Ani, who sat with her head bowed. Later she would tell me: "I was scared. I have chicken heart." After tense negotiations and heavy fines, we were released. What began as a pilgrimage through a hidden, sacred land ended with a bitter taste of what Tibetans live with daily. Whatever happened, we could leave. For Ani, this was home.
After the Pemako ordeal was over, Ani and I stayed in the Tibetan quarter of Lhasa, which is literally "the place of the deity". The majority of Tibetans live in an ever-decreasing circle around the Jokhang Temple, the holiest in Tibet. The rest of the city is being transformed by modern Chinese architecture into a growing sprawl of monochrome utilitarian apartments, factories and at least a dozen army barracks. The Potala Palace still reigns above. A majestic gold-turreted building 13 storeys high, this palace of 1,000 rooms was the home of the Dalai Lama for centuries and the seat of the Tibetan government.
In Lhasa, old customs are being submerged under a tide of consumerism – bars, brothels and supermarkets, giant billboards of David Beckham and Chinese sylphs advertising Oil of Olay. The Qinghai-Tibet railway, the highest in the world, will open for commercial passengers in July, and is likely to bring more ethnic Chinese settlers to the Tibet Autonomous Region (TAR). In the capital, Chinese already outnumber Tibetans at least two to one. These changes are evident not only in the rising numbers of beggars and prostitutes on the streets of Lhasa and the sex shops selling giant dildos, fake breasts and fancy condoms, but also in the disappearance of religious practices that Tibet has nurtured for more than a millennium.
Unlike Tibetan Buddhist masters, whose lives have been recorded in detail, and monks, whose orchestrated political protests in recent years have been widely reported, little is known about Tibetan nuns. Unsung, they have an ambivalent and second-rate status in Tibetan society that goes back to the Buddha himself, who consented to a female order only on condition that nuns take eight extra vows, to keep them under the control of the male monastic community. Such disadvantages have not prevented nuns from playing a critical role in the pro-independence uprisings. Those courageous enough to speak out have been arrested, incarcerated and frequently tortured. Eight nuns are known to have died in prison of extreme maltreatment between 1994 and 1998. Since then, unrelenting political campaigns have reduced the number of detentions, although the US Commission on International Religious Freedom maintains that it finds no significant changes in the Chinese government's "overall policy of strict control over religion in Tibet".
When we were in Lhasa together, Ani took me shopping to buy a chuba (wraparound tunic) in the Barkhor market. She insisted on dressing me, smoothing out a ruck here, tucking in a bulge there. As we went through the streets, I became anxious that by being seen with me Ani would suffer when I left Tibet. I knew that each time we travelled together she courted suspicion.
The fragility of her situation was brought starkly home one afternoon when we were sitting with a Tibetan companion on a rooftop, and out of earshot. She cupped her hand over mine and assured me that nothing would happen to her. Then she added: "If nuns are sent to prison, they use electric shocks on them – everywhere." The interpreter went on: "The nuns look all right outside. Inside they fry like cooked meat. When the prisoners get very ill, they are released so they don't die in prison." I felt sickened.
When I asked when she planned to return to her nunnery, a shadow crossed her face. The year before, in 1996, the Religious Affairs Bureau had come to Ani's nunnery in the first wave of "patriotic campaigns". After a decade of extensive rebuilding of monasteries and nunneries, the Chinese authorities had reversed their policies with a harsh crackdown aimed at transforming Tibet into an atheist country. For three months, twice a day, Ani was forced to attend meetings to criticise the Dalai Lama and acknowledge that Tibet is an inalienable part of China. At first the nuns were silent. "The officials told us, 'You have to get a job, have a business, get married – that's what will make you happy,'" Ani explained. "They told the local people that 'nuns are lazy, like pigs'." In the end she had to denounce the Dalai Lama. "It was one of the worst emotions I've ever felt. So sad, so awful."
Like thousands of monks and nuns across Tibet, Ani was forced to leave. She returned to her nomad village, but eventually, with nowhere else to go, she went back to the nunnery.
Today she is always ready to leave and will flee at a moment's notice if party officials swoop down. Over the past year the patriotic-education campaigns have intensified. In October, 40 nuns were expelled from Gyarak nunnery; a month later, five monks from Lhasa's leading Drepung monastery were arrested and detained. To stem the widespread despair and resistance, the Tibetan leader in exile has called on his compatriots to denounce him "without any hesitation".
Eighteen months later, I returned to Tibet. I arrived in Lhasa a few days before the 40th anniversary of Tibetan Uprising Day, March 10, 1999 – one of the most significant and politically sensitive dates for years. I was on a covert filming assignment. Once the job was done, I left
Lhasa and, with a guide, went in search of Ani.
It took a day bumping along a potholed road to reach her nunnery. When I arrived I was told Ani was on a meditation retreat in a cave about 14,000ft up, close to a sky burial site where Tibetans traditionally dispose of their dead. For a few hours, Ani and I were reunited. Despite the glacial temperatures, she glowed from within. Only twice a day could she warm herself by a small fire, gathering scraps of wood and boiling a little snow for water to make tea.
She had retreated to this desolate and inhospitable place, in part to escape the spying of the official Religious Affairs Officer at the nunnery whose job was to monitor the nuns' daily activities; in part to pursue her practice. "It's very peaceful, a good place to meditate. Here the Chinese don't trouble me, it's too far to walk."
It was this fearlessness, the strength of her inner motivation and commitment to remain true to her own heart, that I wanted to emulate in my own life. For a while, Lhasa felt closer than London. I had a Tibetan love affair and I was given a Tibetan name, Drolma. I ate tsampa (ground barley) and grew to like butter tea. The thread that ran through this was not the mountain highs, nor the wild alpine gardens. It was Ani: a humble mystic who inspires, most of all, with her deep compassion.
The following summer, in 2000, the situation had temporarily eased at her nunnery and I found her at home. Inside her little hermitage, everything was covered in a film of soot. A dirty curtain divided the kitchen from the bedroom-cum-living area. One afternoon we took a bus to a nearby monastery, stopping at some hot springs popular among nomads. In the bathing area for women, Ani took the soap and lathered my back; then she rubbed a handful of small pebbles in neat circles across my shoulders for a gentle massage and exfoliation, Tibetan-style. I realised how much I appreciated her tactile nature. It would seem odd, I thought, to hold an English friend's hand, but here such affection was normal.
#
#
#
#
#
Years passed and I did not return to Tibet. Over time, Ani, in my mind, had become whatever I imagined her to be. I began to wonder: did she really think about me, or was my friendship with her a figment of my imagination?
I now know that it is not. Last year, when I finally tracked her down again, Ani turned to the interpreter and said she regarded me as being like her parents. "I always feel very fortunate to be her friend. I'm just a wandering beggar and she takes care of me compassionately," she said. In the intervening years, her hands had aged; the palms were creased like antique parchment. She looked unwell. She had been vomiting blood.
At the Lhasa's People Hospital, I supported her while she was given an endoscopy without an anaesthetic. She retched violently. I gritted
my teeth to avoid gagging. Ani was diagnosed with a stomach ulcer, and I sought out a French doctor to ensure that she had the correct medicines. He warned me that if she was not treated, with her extreme lifestyle, "she could die from internal bleeding".
Once Ani's health had improved, I hoped we would visit her home village. But every time I broached the subject she made excuses as to why we couldn't go. Finally, she explained: "My family won't think well of me. I could bring disrepute and cause them problems with the authorities. There's lots of negative propaganda about westerners. We're told by the government not to have close links with foreigners." As the weight of the words sank in, she held my gaze. All the years I'd known Ani, the countless times I had asked if being with me could endanger her, not once had she admitted it. With a small shrug, she said: "You can't follow all the rules they set."
Before I left, we made an agreement that every full moon we would think of each other and send love. It was a pragmatic, if somewhat sentimental, way to stay connected, as it could be years before we saw each other again. That is, if I do see her again. I have had to come to terms with the fact that, by writing this book, I may not be able to go back. I tell myself that China is changing, Tibet is opening up. I remain optimistic. I have to, otherwise it chokes me. I told Ani: "I want to write about you, so that others will learn about your life and aspirations and the hardships you've overcome to remain true to what you believe. You're precious, Ani. There aren't many women like you left." There is no other friend like you.
----------------------------
Last Seen in Lhasa: The Story of an Extraordinary Friendship in Modern Tibet (Rider, £10.99), by Claire Scobie, is published on June 1. It is available at the BooksFirst price of £9.89, including postage and packing. Tel: 0870 165 8585; visit: timesonline.co.uk/booksfirst
The Buddhist Channel - Donate to Support Our Work
An Appeal

In deep gratitude for your support! We are half way to meeting our target (US$ 10,400 of US$ 18,000 already achieved)!
The Buddhist Channel is a dedicated group of "mindful communication practitioners" striving to make a positive impact on the Buddhist community. We deeply believe in the power of mindful journalism and are reaching out to you with a heartfelt request for your support. Your donation, no matter the size, can make a tangible difference in the lives of countless Buddhist monastics, local communities and other dedicated engaged workers. With your help, we make their stories known, and thereby opening up avenues for them to obtain sustainable support for their work.
Please indicate whether your support will be a donation or a loan. We will get back to you via email. We thank you in advance for providing us financial relieve. May the Buddha Dharma ever be your guide and protector.

Note: To date, we have received the following:

US$ 900 from Esa Myllykoski (donation)
US$ 9,500 from Lance Edwards/Kau Soo Kin (loan)

We express our deep gratitude for the support and generosity.
If you have any enquiries, please write to: editor@buddhistchannel.tv