Rooftop rail threat to Buddhist paradise
By David Eimer, Reuters, July 3, 2006
BEIJING, China -- As propaganda banners fluttered and cymbals clashed in the thin mountain air, China's President, Hu Jintao, opened the world's highest railway, linking Beijing to Tibet, yesterday.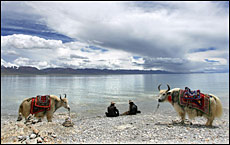 << Activists say trains will hurt Tibet's fragile ecosystem, including antelope. Picture / Reuters

The authorities were hailing the undeniably impressive technical achievement of building a railway across the "Roof of the World", but environmentalists and activists were warning that the railroad would damage Tibet's fragile ecosystem and lead to an influx of Han Chinese migrants who will dilute Tibet's ancient Buddhist culture.

A nationwide TV audience watched President Hu cut the giant red ribbon inaugurating the $6.9 billion railway at Golmud station in the western province of Qinghai, until now the closest railway terminus to Tibet.

Minutes later "Qing 1", the first train, pulled out of Golmud for Lhasa, the capital of Tibet, with 600 Government officials and journalists on board for the 1140km, 13-hour journey across one of the most sparsely inhabited regions in the world.

China's leaders have long wanted to end the geographical isolation of Tibet and link it with the east of China. But campaigners for a free Tibet see the railway as a chance for the authorities to flood the mountain kingdom with workers and argue that increased trade will benefit the Chinese more than the Tibetans.

With a "hard sleeper" ticket for the 48-hour journey from Beijing to Lhasa costing 813 yuan ($180), an estimated 3000 to 4000 extra people a day are expected to travel to Tibet.

Three protesters from Britain, Canada and the United States were detained by police after unfurling a banner at Beijing's main train station that read "China's Tibet Railway, Designed to Destroy".

Environmentalists fear the impact on such endangered species as the Tibetan antelope, which are used to roaming free on the plateau with only a few farmers for company.

Zhu Zhensheng, the vice-director of the Ministry of Railways, said 1.54 billion yuan ($333 million) had been set aside to protect the environment along the route.

The authorities though, have preferred to stress the advantages the railway will bring to Tibet. Two freight trains a day will run to Lhasa, carrying goods that until now have had to be trucked in over mountain roads that are often impassable in winter.

President Hu was in triumphant mood at the opening, timed to coincide with the 85th anniversary of the founding of the Chinese Communist Party, hailing the project as "a magnificent feat in China's history".

China plans to build three more railway lines in Tibet in the next 10 years, including one that will run to the newly reopened border with India.