Tourism threatening Tibet's sacred spaces
by GEOFFREY YORK, Globe and Mail, July 12, 2006
LHASA, Tibet -- On the roof of the holiest temple in Tibet, the monks are debating Buddhist theology - and trying to ignore the hordes of Chinese tourists who interrupt the debate to grab them for photos.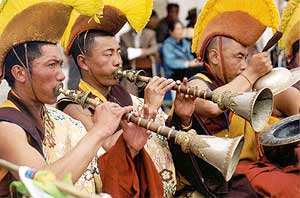 << An anticipated tourist boom due to the opening of a railroad threatens Tibet's culture and delicate environment
One monk flinches and ducks away when a boisterous Chinese man, posing for a picture, tries to fling his arm around the monk in the midst of the theological debate.
Tibet's capital, Lhasa, is bursting at the seams with tourists. It already receives so many tourists that the famed Potala Palace, the ancient symbol of Tibet, has imposed a daily limit on visitors. Even humble Tibetan pilgrims are turned away when the daily maximum is reached.
But the tourism boom is about to get much bigger. China's new high-altitude railway to Tibet is expected to open the floodgates to a massive influx of new visitors -- an extra 4,000 a day when it is in full operation.
Until now, tourism was restricted by the need for an expensive air flight to Lhasa or an arduous bus trip of up to 50 hours from the nearest neighbouring province. But the train, with its cheap subsidized tickets, will eliminate the final obstacles that long protected Tibet from outside pressures.
Last year, Tibet received 1.8 million tourists. By the end of this decade, China projects that it will be getting more than five million a year -- putting a huge strain on ancient temples and its long-isolated culture.
The revered Jokhang temple, where the monks debate Buddhist theology every afternoon, is expected to see a doubling in its visitor numbers next year to as many as 300,000 people.
But the pressure will be greatest at the Potala Palace, the 17th-century winter palace of the Dalai Lama, with its fragile mud-and-wood architecture and precarious mountainside location.
"My biggest headache is that we have so many tourists," said Qiangba Gesang, director of administration. "I am asking my foreign friends to stop publicizing the palace so much. Otherwise there will be more people coming here. My main task is not to make money or attract visitors -- my main task is to protect the palace."
Chinese authorities have been struggling to control the crowds at Potala for years. Until 2003, it restricted visitors to 1,600 a day. Then the limit was raised to 1,800. On July 1, when the new railway opened, the daily limit was raised again, to 2,300 -- almost 50 per cent above the cutoff that was deemed necessary just three years ago.
The palace is also contemplating a steep increase in ticket prices to discourage crowds. The admission price is now 100 yuan (about $14) but could be hiked to 200 or 300 yuan. Tibetan pilgrims, meanwhile, are required to pay two yuan to enter the palace -- a significant amount for the impoverished worshippers who trek here.
Mr. Gesang said he is trying to persuade tourists to visit Lhasa in the winter.
"Winter in Tibet is not as cold as you imagine," he said. "It will reduce the pressure on the palace."
Last year, the palace received 370,000 tourists, along with 70,000 pilgrims. Next year, Mr. Gesang expects to receive 500,000 to 600,000 tourists -- a massive rise from the 90,000 visitors when he began working at the palace in 1989.
He said the daily limit will be raised to 2,300 if he gets approval from Tibet's tourist bureau, and if tour guides promise to shorten their explanations inside the palace's tiny rooms. But ticket sellers say the limit has already been raised to 2,300, despite the director's words.
Many Chinese tour groups have 30 or 40 people in their group, causing huge traffic jams inside the narrow corridors. Staff at the palace are much more alert these days, shooing along the groups when they linger too long in a room. But often the tour groups simply ignore the staff.
"Nowadays I am seldom in my office," Mr. Gesang said. "I am always moving around the palace, checking to make sure the tour groups don't stay in one place too long. If they do, there will be great pressure on the architecture. It's very dangerous if people stay in one place too long."