Shaolin exponents enjoy seclusion
Xinhua, Sept 11, 2006
Shanghai, China -- FINISHING a set of punches, 19-year-old American Philip Sahagun said his seclusion in a Chinese temple had helped him understand kung fu better.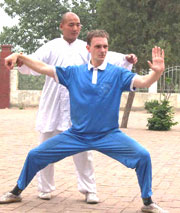 << A foreigner learning Shaolin Kungfu
Sahagun was one of 36 kung fu practitioners from a dozen countries to have a nine-day seclusion in the Shaolin Temple in central China's Henan Province. The seclusion ended on Saturday.
The practitioners were outstanding members of March's Global Chinese Kung Fu Star Competition, which was jointly organized by the Shaolin Temple and Shenzhen Satellite TV Station in south China.
Seclusion is a training method of Zen Buddhism which focuses on concentration and meditation. The Shaolin Temple, built 1,500 years ago, is the birthplace of Zen Buddhism.
During the seclusion, the fighters not only learned kung fu skills from Shaolin's 18 kung fu monks, but had lectures on Buddhism and kung fu history. They wore kasayas, the robes of Buddhist monks, and ate vegetarian meals.
"Martial arts are about self-control," said Sahagun. "We should fight for self-defense, not for violence."
Dyra Sao, another fighter from the US, was impressed by meditation. "Kung fu is not only about fists. Mental power is also important."
"Chinese martial arts are part of Chinese traditional culture," said Shi Yongxin, abbot of the temple. "By holding the competition, we hope to promote Shaolin culture and Chinese martial arts to the world and enhance exchanges with foreign countries, so as to make people cherish peace and health more."
The practitioners' performances were graded during the seclusion and the top nine will go into the final contest later this September.