Hope hard to sustain in Tibet's "freedom struggle"
By Simon Denyer, Reuters, November 5, 2006
DHARAMSALA, India -- The chatter gave way to rowdy male laughter when Tseten Yangsom began her brief talk on "How Tibetan women play a role in Tibet's freedom struggle." Yangsom, 21, battled on bravely, but I was surely not the only audience member who felt like curling up in embarrassment.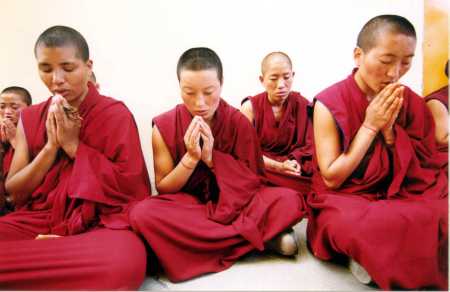 << Young Tibetan nuns seen in Dharamsala
This was Miss Tibet 2006, billed as a "beauty pageant with a difference", a celebration of Tibetan girls, somehow -- and surely incongruously -- doubling as a promotion of the region's struggle against Chinese rule.
The crowd of young Tibetan refugees living in Dharamsala were not here to be lectured on politics. They wanted a bit of entertainment, a bit of flesh.
Yangsom duly obliged in the "talent round", dancing erotically to Hindi songs in a skimpy costume. The crowd cheered, firmly back on her side, though the crown eluded her.
As an exercise in media manipulation, Miss Tibet surely rates as a success -- a slightly amateurish beauty contest that attracts only a handful of entrants each year but has been covered by the BBC, CNN, Time and Reuters.
In a sense it also epitomises an air of hopelessness among the refugees, short of ideas over how to take their struggle forward more than 50 years after communist troops entered Tibet.
"I call it brickmaking without a building plan," said Lhasang Tering, a Tibetan scholar and bookstore owner. "We are doing all these things without any results, because the Tibetan political struggle has no goal."
THE MIDDLE WAY
That struggle and the hopes of millions of Tibetans are embodied in one man, the Dalai Lama.
The week before I travelled to Dharamsala, I saw him address a group of foreign journalists in New Delhi.
What struck me was his sense of resignation and reluctance to say anything that might upset the Chinese.
"My position is semi-retirement," he said, adding he was waiting for the day that the Chinese grant autonomy to Tibet and he is able to return.
"But if that day does not materialise in my lifetime, and I am now 71 years old, then I think the time will come for my complete retirement."
The "Middle Way" approach is designed to reassure the Chinese by seeking autonomy within China rather than independence.
These days, when a Chinese leader travels abroad, instructions come down from the Dalai Lama -- do not stage protests, do nothing to make Beijing lose face.
PATIENCE, AND TIME RUNS OUT
But young people do not all have the patience of the 14th Dalai Lama, believed to be a reincarnation of Buddhism's bodhisattva of compassion. They see the Tibetan cause fading from the world's consciousness.
At a Buddhist nunnery not far from Dharamsala, I watched scores of young Tibetans on a five-day camp designed to teach them how to stage "non-violent direct action".
Chinese flags were burned, trees were climbed, slogans were chanted. But there were no police to battle, no angry Chinese officials to confront and only a hose sending a thin stream of water to symbolise the water cannon they one day may face.
Students for a Free Tibet (SFT) is determined to use the Beijing 2008 Olympics to promote their cause, to turn China's big moment on the world stage against it.
But is it already too late?
Ethnic Han Chinese now outnumber Tibetans in Lhasa, and China's grip on the remote Himalayan plateau seems firmer than ever. In India and elsewhere a new generation of Tibetans have never seen their homeland.
Under a tree beside the camp sat Karma Yeshi, a member of the Tibetan parliament-in-exile and a former leader of the Tibetan Youth Congress, which advocates complete independence.
"If we only watch and wait Tibet will die one day," he said. "Our language and culture is being destroyed. We have to raise our voice so China leaves Tibet."
Yeshi, like all Tibetans, worries about what will happen when the Dalai Lama dies, something which has traditionally heralded a power struggle within Tibet.
"The Tibetan Youth Congress has so far not taken violent means, but the option is still open," he said. "Tomorrow if he (the Dalai Lama) is no more, things might take another turn".