China: Buddhism rises again with a hundred million followers
AsiaNews/Agencies, April 18, 2007
No more the old farmer image, Buddhists are now young and successful. A whole new generation finds that material well-being and success are no longer enough in life and seek old time religion. Some famous celebrities from the past shave their head and join monasteries.
Beijing, China -- Buddhism is back. With more than a hundred million followers the ancient faith is being rediscovered by young people who hitherto were happy with personal success. Instead, more and more of them are flocking to temples to "enhance" their spirituality.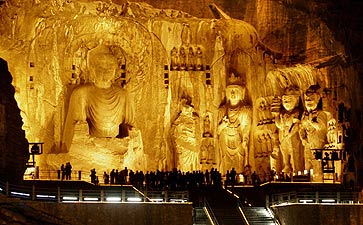 << Longmen grottoes, China
Religion is back with vengeance in the People's Republic. A recent survey by the by East China Normal University estimated that 31.4 per cent of mainlanders aged 16 or older were religious, putting the number of believers at roughly 300 million, three times higher than the official figure.
According to Zhang Fenglei, head of the Religious Studies Centre at Renmin University, Buddhism can claim 100 million adherents.
Its revival cuts across all age groups and segments of society but newer devotees have tended to be young, college-educated and successful in their professions.
"It used to be that the majority of believers were the elderly, rural women and illiterates. But now Buddhism is no longer associated with older types," Professor Zhang said.
Media attention has also played a role in the Buddhist revival as more and more disenchanted celebrities discover the value of disconnecting from attachments such as fame, status and wealth.
Chen Xiaoxu, a TV icon in the Eighties for her unequalled performance in the hit series the Dream of the Red Mansion, recently shaved her head and became a nun at a Buddhist temple in the northern city Changchun.
"I only want to enhance my spirituality," Ms Chen said. "I've made the most important and best decision in my life."
"It's more like a philosophy about living than a religion," He Jian, a young man from southwest Yunnan, told the South China Morning Post. It does not try "to teach a doctrine. Instead, it encourages people to seek their own path to enlightenment."
For Mr He, the distinctive message from the Buddha is: don't rely on sages, dogma or religious rules—turn inward for your awakening.
"It teaches you how to find inner peace in a frantic life," he explained, adding that "it spoke to me directly."
Professor Zhang explains that China's thirty- and forty-something were raised in an authoritarian education system and like a religion that does not seek to impose its own norms on others.
Unlike Chen, most new Buddhists shy away from making radical breaks with their past and present but find in their new faith sustenance for their daily life. Many turn to Buddhism as a way of coping with increasing stress from both work and family because it emphasises calming the mind through meditation and ethical living. This appeals especially to successful businesspeople with a history of accumulating wealth.
"They need spiritual sustenance for moral balance," Professor Zhang said. "Buddhism, with its emphasis on infinite compassion, offers a way of reconciling with their past. It provides self-healing."
Buddha is admired because he faces life without relying on others' teachings but instead seeks his own path.
"Buddha describes an experience he has, and he tries to suggest that it's available to other people," said Mao Qiang, a young man from Beijing. "My enlightenment is mine. Yours is yours. I can't give you mine."
Buddhism arrived in China from India more than 2,000 years ago. In ancient Sanskrit, Buddha means the "Enlightened One".