A death that was destined
by CELESTE FONG, The Star (Malaysia), May 20, 2007
Beijing, China -- SHE made her name playing the character of Lin Daiyu in the 1987 CCTV series Dream of the Red Chamber. After acting as Lin for some 20 years, she endeared herself to millions of viewers as "Lin mei mei" (sister Lin).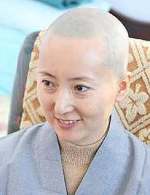 << Chen Xiaoxu took her vows to become a Buddhist nun on Feb 23 at a temple in Changchun, north-east China.
In February this year, she made headlines when she converted to Buddhism and became a nun with the Buddhist name Mao Zhen Fa Shi. Shortly after, her husband Hao Tong shaved his head bald and also became a Buddhist monk.
Now, Chen Xiaoxu, the famous actress who was typecast as Lin Daiyu – one of the main protagonists in the Chinese classic Hong Lou Meng or The Story of the Stone – is dead.
She died aged 42 of breast cancer last Sunday, Mother's Day, in Shenzhen in South China.
In an interview about her conversion with the New York Times, she was reported as saying: "I don't agree that Buddhism teaches people to lead a life of deprivation. Buddha was really simply encouraging people to create a happy world for themselves."
Chen, who hailed from Anshan, Liaoning, said she had finally taken the right path in her life.
As of Friday evening, about 50% of 77,718 Netizens asked by leading web portal Sina.com on their views of her death described it as "hong yan bo ming (a beautiful girl who has (often) an unfortunate life)".
In Dream of the Red Chamber, the sensitive Lin Daiyu dies of a broken heart after scheming relatives tricked her soulmate Jia Baoyu into marrying the calculative Xue Baochai.
It is said that when auditioning for the role, Chen told the director that she was Lin Daiyu.
A poet herself, she had written a poem on the back of her photograph to convince the director she was the most suitable candidate for the role and that she had also read and knew the novel well.
In life, the role of Lin Daiyu had turned Chen into a household name, but she had remained fixated on that role, too.
Fading from the limelight and her short-lived acting career after playing another similar role in a TV drama Family, Spring, Autumn, Chen teamed up with Hao Tong to set up an advertisement company in the 90s.
Shi Bang Advertisement Co Ltd and Shi Bang Culture Development Co Ltd made millions and the actress-turned-businesswoman was a billionaire.
But she later found that the pursuit of material wealth could not lead to happiness and that was when she turned to Buddhism. She became a student of Master Chin Kung to learn Buddha's teachings.
The Sina.com poll shows that more than 26% believe her death was "destined" or "fated".
Destined or not, the former celebrity had made an impact on the Chinese people and society.
Following her memorial service in Shenzhen, her family announced that they would help fulfil her wish to set up a 50-million yuan (RM112.5mil) charity fund to help the needy.
And a large sum of her fortune has also been donated for the development of Buddhism.
After news of her death spread, many were taken aback either with shock or disbelief. More than one million messages from Netizens flooded the Sina blog of Sina.com in just a few days.
News reports said there was a 10% increase in the number of women going for breast examination in various hospitals in Hangzhou, the capital city of Zhejiang province.
One woman told a newspaper that she was scared and concerned about her own health after hearing the news of that Chen who had died of breast cancer.
Chen was diagnosed with end-stage breast cancer last June.
Beijing Television is planning to expand a segment on Chen for a live broadcast of its nationwide talent search pre-production contest for the characters of the Dream of the Red Chamber today.
Many of the semi-finalists, especially those who are competing for the role as Lin Daiyu in the new 50-episode BTV drama series, shed tears as they remembered Chen.
Written by Cao Xueqin (1715–1763), Dream of the Red Chamber is a beautifully crafted fiction about the collapse of the rich and powerful Jia family and centres on the romance between Jia Baoyu and Lin Daiyu.
The novel affords powerful insights into how the characters, more than 400 of them, lived in 18th-century China.
Most Chinese in Beijing know the characters in the story quite well and Chen, to many, was indeed Lin Daiyu. And she will always remain as their "Lin mei mei".