Troubled Hong Kong cable car could be sign of Buddha's unrest
Earthtimes.org, June 15, 2007
Hong Kong, China -- An accident in which a cable car cabin plunged 50 metres to the ground could be the latest sign that Hong Kong's Big Buddha is unsettled, said a news report said Friday.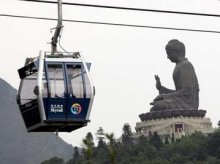 According to a fung shui expert quoted in the South China Morning Post, the accident on the Ngong Ping tourist ride Monday may indicate the cable car had disturbed the tranquility of nearby Big Buddha statue and monastery.
The cabin, capable of carrying up to 17 people, was empty when it broke free and fell the equivalent of 13 storeys from its cable on on Lantau Monday evening.
The accident took place during a test run at 8 pm, an hour after the 5.7 kilometre ride, which takes people hundreds of metres above sea and steep hillsides to the 34-metre-high Big Buddha statue at the top of the island, had closed.
The ride remained closed indefinitely Friday pending an investigation which will include experts from overseas.
The accident is the most serious setback for the 125-million-US-dollar attraction, which has been dogged by a series of mishaps which began even before it opened last September.
Technical problems delayed its original opening for two months and were followed after its opening by a number of incidents on the cable car ride in which passengers have been stranded for up to two hours by mechanical problems.
Fung shui consultant Mak Ling-ling told the Post the problems may be due the fact the ride had disturbed the tranquility of the Big Buddha and the Po Lime Monastery nearby.
In 2002, the monks of the monastery opposed plans to turn government land in front of their temple into a piazza with shops and restaurants to draw more tourists to the site which is already one of Hong Kong most visited attractions.
Mak said the problems could also indicate that certain ceremonies to encourage good luck were not conducted properly or were ommitted.
"This area of Lantau could be described as a religious site," Mak said. "The doorsteps of a monastery should be peaceful and calm. I would not go so far as to say this latest incident is a sign from Buddha, as Buddha is merciful, but it is definitely a sign there is something wrong from a fung shui point of view."
The operator Skyrail did consult a fung shui master over the date of the soft opening date, however, Mak said the final opening date if September 18 was not a particularly good day in the fung shui calendar.