China embraces traditional ways as it throws out communist ideologies
Channel News Asia, Dec 16, 2004
TIANJIN, China -- As a priest clad in a Qing Dynasty robe sounded the drum in Tianjin's 568-year-old Temple of Confucius, hundreds of worshippers bowed in unison to a shrine laden with offerings and billowing with incense.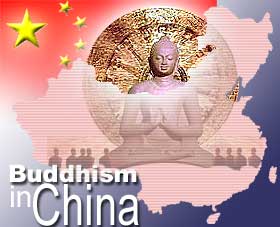 The ceremony to commemorate Confucius' birth was last held in Tianjin, a port city southeast of Beijing, 66 years ago.
One of those present at the present-day ceremony, 63-year-old retiree Zhou Yuzhen, said she felt privileged to witness the revival of the commemoration.
"These days there are fake goods everywhere and people are just obsessed with money. We should bring back old values such as trustworthiness and integrity," she said. "They mean so little to young people these days."
She and the other worshippers should count themselves lucky.
During the Cultural Revolution more than 30 years ago, they would likely have been sent to jail as bourgeois and feudalist elements hostile to the communist ideology.
Confucian values such as loyalty, humility and filial piety have been the basis of Chinese culture for 2,000 years but some doctrines were condemned by the communist regime as outdated and oppressive.
But today Confucianism, together with many Chinese folk traditions and beliefs also regarded by the communist authorities as backward superstitions, have seen a strong revival.
While people flock to temples across China to pray for business success, happy marriages or good academic results, books on I-Ching -- an ancient Confucian and Taoist philosophy used for divination -- are flying off the shelves in bookshops.
Even the state-owned Xinhua Bookshop on Beijing's bustling Wangfujing shopping street stocks more than 60 titles on I-Ching.
"The philosophy helps me understand more about life and has given me more wisdom," said Qin Yan, an editor of a sports newspaper, browsing books on I-Ching.
"There are many confusions in this world -- many people are searching for the meaning of life and finding out who they are," she said.
While fortune-telling is common in temples, Feng Shui -- an ancient Chinese ethno-science that addresses the layout of dwellings and buildings -- is now a booming business with many willing to pay big money for consultations over the choice of location and layout of their homes and offices.
Analysts said that with the crumbling of the Stalinist-style planned economy and the often chaotic transition to a market economy, Chinese people find themselves living in a more affluent but also a more insecure world.
People are facing uncertainties they had not previously encountered and this was forcing them to take risks and believe in fate, they said.
"You might be made redundant these days. And if you're ill, the government won't look after you any more, so any illness can turn into a huge crisis," said Chan Kin-man, sociology professor at the Chinese University of Hong Kong.
Chan Kim-kwong, a China expert at the Hong Kong Christian Council, agreed.
"Anywhere that has very active commercial activities has a strong element of the unknown," he said. "When there is so much in the unknown, people revert to their cultural beliefs, that happens in every culture."
The demise of communist ideology in an age of rocketing economic growth has also left a spiritual void.
"People who got rich now feel insecure -- in the past they had nothing, but now they are afraid of losing," said Zhou Xiaozheng, a sociology professor at the People's University in Beijing.
At the 310-year-old Yonghe Tibetan Buddhist temple in central Beijing, university student Zhang Liu, 23, said she was praying for her future career even though she wasn't a Buddhist.
"It's a kind of psychological balance, a comfort. Buddhism is not just superstition, it is part of our Chinese culture," she said.
She said she was glad she was not subject to ideological criticism for going to a temple -- as her parents' generation would have been.
"It is great that you get freedom in how to behave these days," she said.
Lin Yongjie, a 24-year-old martial arts student also at the temple, said:
"Our traditions have existed for thousands of years. They are in our blood and nothing can kill them."