Tibet: Development spoiling Potala palace's unique atmosphere
By Michael Bristow, BBC, July 30, 2007
Lhasa, Tibet (China) -- Officials at Tibet's Potala Palace in Lhasa have rejected concerns that the 1,300-year-old palace is being hemmed in by ugly, modern Chinese buildings.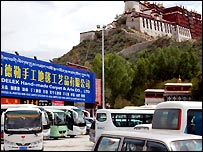 << Critics say the Potala is being hemmed in by ugly buildings
Palace director Qiangba Gesang said the Chinese government was working to protect the former winter home of the Dalai Lamas and the surrounding area.
Unesco has expressed concern that development around the palace is spoiling the site's unique atmosphere.
The Potala Palace was placed on Unesco's World Heritage List in 1994.
Comprising a series of palaces and other buildings, it sits on top of a hill overlooking Lhasa Valley, 3,700m above sea level.
Qiangba Gesang said this was not the first time Unesco has expressed concern.
He told the BBC that in 2002 Unesco received complaints that commercial development around the palace was ruining its character.
Unesco was also worried about the materials used to repair the wood and earth structure, the director said.
The government has since ruled that buildings around the Potala Palace cannot be more than 21m high.
Traditional Tibetan materials and craftsmanship were being used to restore the building, added Qiangba Gesang, who has worked at the palace for 19 years.
He said the central government allocated 170m yuan ($22m, £11m) in 2002 to fund this reconstruction work.
Surrounded by shops
Other measures have also been introduced to ensure the palace is not damaged by the increasing number of visitors coming to Tibet.
There have been 30% more tourists at the Potala Palace since a railway linking Lhasa with the rest of China opened in July last year.
Qiangba Gesang said only 2,300 tourists were now allowed into the palace each day, although there are no restrictions on the number of Tibetan visitors.
But despite his comments, the Potala has been surrounded by shops, offices and restaurants over recent years.
There is a shop selling handmade carpets right below the palace, which sees the greatest number of tourists in July and August.
Previously, the palace used to be completely separated from the old town of Lhasa.
Explaining this change, Qiangba Gesang said: "Commercialisation is a worldwide phenomenon. If there were no businesses then cities would not exist."
The Potala is just one of six world heritage sites in China that Unesco is worried about.
The others include Beijing's Forbidden City and the old town of Lijiang in southwest Yunnan Province.