Shaolin temple fights to protect trademark
PTI, Aug 1, 2007
DENGFENG, China -- The monks of the world-famous Shaolin temple, set up here in central China for an Indian monk in 495 AD, is fighting against increasing misuse of the 'Shaolin' trademark by unscrupulous traders, even in India, for commercial purposes.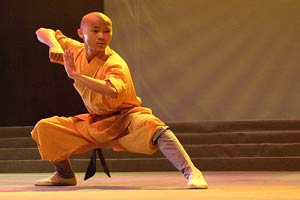 "It is our historical responsibility to protect and rejuvenate the unique culture of Shaolin," Shi Yongxin, the Abbot of Shaolin temple, nestled in the foothills of the sacred mount Songshan, said.
The Shaolin temple is widely considered the birthplace of Shaolin Boxing, a unique combination of Buddhism and the Chinese martial arts that evolved into Kung Fu.
The Buddhist temple made famous by dozens of Kung Fu movies, has registered 'Shaolin' and 'Shaolin temple' as trademarks with China's general administration for industry and commerce, the Abbot said. It has also set up a firm to safeguard the temple's reputation and ban its 'abusive use' in commercial activities.
"We have registered our trademarks in many foreign countries, including India," Shi said. He had visited India in 1995 and is emphatic when asked about growing misuse of the Shaolin trademark.
"We will take appropriate action against those who abuse the Shaolin trademark for commercial purposes without explicit authorisation," Shi took over the reins of China's most famous temple in 1999. Acknowledging the Shaolin temple's India connection, Shi noted China and India, both having ancient civilisations, are close neighbours with friendly exchanges dating back to ancient times.
The temple was established in 495 AD. As a believer of Buddhism, emperor Xiaowen worshipped Batuo, an Indian monk then spreading Buddhism in Luoyang. He ordered to build a temple for him at the north foot of Shaoshan mountain. Batuo was the first eminent monk that came to Shaolin, he said.