China tightens controls on Tibetan Buddhists
By Natalie Paris and agencies, The Telegraph, Aug 3, 2007
Beijing, China -- China is attempting to tighten controls over Tibet by influencing the selection of its religious figureheads.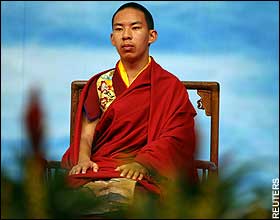 << China's annointed 11th Panchen Lama
The officially atheistic communist government has dictated that all future incarnations of Tibet's living Buddhas must be subject to Chinese approval.
China already insists that only its government can approve the appointments of the best known reincarnates, including the Dalai and Panchen Lamas, the top two figures in Tibetan Buddhism.
The regulations coincide with reports from an ethnically Tibetan region of Sichuan that dozens of people have been arrested for using a traditional festival to call for the return of their exiled spiritual leader.
Critics say China continues to repress Tibetans' religious aspirations, especially their veneration for the Dalai Lama, the Nobel Peace Prize winner whom China denounces as a "separatist".
China has also been accused of delaying talks with the exiled Dalai Lama, waiting for him to die so they can name a new Dalai Lama of their own, loyal to Beijing.
The ruling, from the State Administration for Religious Affairs, appears to be designed to exclude the Dalai Lama's influence and will have a direct affect on Tibetan Buddhism.
Reincarnate lamas, known as tulkus, are central to civil, religious, cultural and political life and oversee the training of monks.
The new rules state that: "the so-called reincarnated living Buddha without government approval or the approval of religious affairs departments (is) illegal and invalid."
According to the administration's website, the selection of reincarnates "must preserve national unity and solidarity of all ethnic groups.
"The process cannot be influenced by any group or individual from outside the country."
The rules, effective from Sept. 1, are to "guarantee citizens freedom of religion and respect Tibetans' tradition of living Buddha succession".
In 1992 China rejected the Dalai Lama's choice for the latest reincarnation of the Panchen, seizing the annointed boy and appointing a replacement instead.
The 6-year-old first choice swiftly disappeared from public view, leading human rights groups to dub him the world's youngest political prisoner.
The Dalai Lama has been governing-in-exile in Dharamsala, northern India, since a failed uprising against Communist rule in 1959.