World should thank Buddhists for Christmas
AFP, Dec 22, 2004
Shanghai, China -- Father Christmas?s grotto is not an icy cave in Lapland but the economic heart of southern China, where almost two-thirds of the world?s Christmas trees and decorations are made.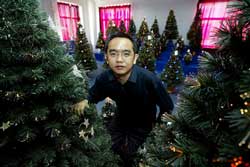 In factories staffed by predominantly Buddhist workers who have scarcely any idea of the meaning of Christmas, the baubles, Santas, lights and tinsel that mark the West?s biggest festival are churned out at a relentless pace.
?No one would dispute it if you said China is the biggest manufacturer of Christmas products. Even its Customs department has figures just for exports of these goods,? said Paul French, publishing and marketing director of Access Asia, a market research company with a special focus on China.
According to Customs figures, China exported $1.6 billion worth of Christmas products in 2003, of which more than half went to the United States ? including seven artificial trees erected in the White House. China?s export of Christmas-related goods in the first nine months of 2004 amounted to $850 millions.
More than half of that ? $510 million worth ? came from South China?s Guangdong province, the country?s major exporter and the heartland of its manufacturing boom. In the United States alone, unless your family purchased a natural tree, you would have had a 70 percent chance of celebrating your Christmas with an artificial tree manufactured in the city of Shenzhen in Guangdong.
Shenzhen SG Handicraft Co is one of more than 300 enterprises that produce Christmas items.
Chairman William Cheng said 80 percent of the company?s sales came from Christmas trees. His company makes 400,000 artificial trees a year that are exported to major supermarkets and department stores in the United States and the United Kingdom.