Survival in the Himalayas
By Royston Chan, Reuters, Aug 27, 2007
SAKYA MONASTERY, China -- The sprawling Sakya Monastery in the remote Himalayan region of Tibet is testament to the survival of Buddhism after decades of political turmoil and repression in China.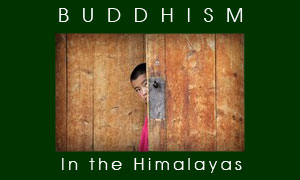 During the tumult of the 1966-76 Cultural Revolution, Maoist zealots rampaged across Tibet, smashing Buddhist statues, destroying temples and forcing monks and nuns to abandon their religious lives.
Now, workers crowd Sakya Monastery's grounds, rebuilding its facade and its famed Buddhist frescoes.
With more than 120 monks under its wings, the Sakya monastery has big plans to restore itself to its former glory -- all, of course, done under the watchful eye of China's Communist Party, which has ruled Tibet with an iron grip since 1950.
Though Beijing continues to lash out at Tibet's exiled spiritual leader, the Nobel Peace Prize winning Dalai Lama who fled to India after a failed uprising in 1959, it does allow Tibetans more religious freedoms than it used to.
It has long been a rule that party officials must also be atheist, though in Tibet that regulation is often more honored in the breach than in the observance.
Some ethnic Tibetan officials quietly tell visitors that they visit temples to offer prayers when they can.
And so, Tibetan Buddhism is seeking its revival by carefully toeing the line between religion and politics. "From a Buddhist perspective, the will to build a harmonious society must come from the heart," said Bandian Dunyu, head of Sakya's administrative committee, referring to Beijing's current policy of promoting social harmony.
"In the future, our religion will be very useful. The culture of Sakya Buddhism will have its contribution to our society, people and the country," he added, carefully choosing his words.
Spiritual void
Buddhism, with more than 100 million followers in China, is increasingly favored by the central government to help fill the spiritual void left by China's increasingly affluent population and to ease growing social unrest.
The estimated 860 million yuan ($113.4 million) cost of renovating the Sakya Monastery, is being funded by the central government.
But it has always been give and take on religious matters.
Critics say China continues to repress Tibetans' religious aspirations, especially their veneration for the Dalai Lama, whom China denounces as a "separatist".
In Tibet, simply having the Dalai Lama's picture can be enough to earn a jail term.
Monks who talked to the foreign media on a recent government organized visit to Tibet were careful not to speak out of turn. "Today, every monk like us is free to go anywhere. But if you want to preach, you will need to go through the appropriate procedures," said Awang Quzha, member of the administrative committee of Tibetan capital Lhasa's Jokhang Temple.
"You will have to inform the government religious authorities, and if they approve, you are free to do so. As to the relation between religion and politics, Tibet is inseparable from our motherland China, and this has been so since the beginnings of the Yuan dynasty until today."