Buddhists vow to work for peace
By Wu Jiao, China Daily, Oct 27, 2007
Beijing, China -- Buddhist delegates from China, the Republic of Korea (ROK) and Japan on Friday pledged to strengthen cooperation, accelerate the process of social harmony in Asia and safeguard world peace.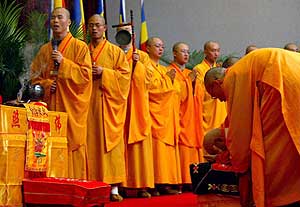 << Monks from China, the Republic of Korea (ROK) and Japan pray for peace in Beijing on Friday. [Newsphoto]
More than 300 Buddhists from the three countries attending the 10th tripartite Buddhism Friendly Exchange Conference in Beijing said world peace and human happiness were their common aim.
But they identified a set of problems plaguing mankind too, saying environmental pollution, energy crisis, hegemony and terrorism were still "endangering world peace".
"We vow to purify the human mind, make new contributions in preserving social harmony and world peace," said a declaration at the conference.
"It has been the fundamental demand and also a vivid reflection of Buddhism's fiery spirit to accelerate harmony among the family, community and society and also to establish a harmonious world," said Xue Cheng, vice-president of the Buddhist Association of China.
Buddhists from other countries hailed his views.
"It needs not only economic strength to establish a harmonious and prosperous world. On the basic front, we need to follow the principles of Buddhism and make them a lifelong guiding force to realize an ideal world," said Syunei Tsuboi, chairman of the tripartite International Buddhism Exchange Mechanism.
The Buddhist delegates held a grand assembly where they prayed for world peace.
Experts in religious studies described the annual exchange program as an effective means to promote peace.
"Buddhism has played a model role in maintaining social stability," said Wei Daoru, an expert in Buddhist studies with the Chinese Academy of Social Sciences.
Religion has helped facilitate understanding among people with different beliefs and diminished hatred and conflicts, he said.
The representatives pledged support to the second World Buddhism Forum scheduled for November 2008. It will be held simultaneously in two cities: Hong Kong and Wuxi in Jiangsu Province.
China sponsored the first World Buddhism Forum in April 2006, attracting at least 1,000 monks, researchers on Buddhism and dignitaries from more than countries. Delegates expounded how religion could contribute to social harmony and world peace.
Buddhism was introduced to China from India in the first century AD from where it spread to Korea and Japan. China has more than 13,000 Buddhism monasteries, the Republic Of Korea 5,000 and Japan 80,000.