Italian contemplates life as Buddhist monk
By Wu Jiao, China Daily, Nov 17, 2007
Nanjing, China -- A week after becoming a Buddhist monk in Nanjing, Jiangsu Province, an Italian man finds he hardly has any time for meditation.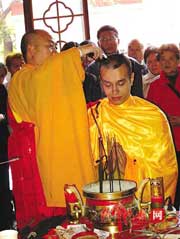 << Lucas, a 28-year-old Italian, became a monk at the Xuanzang Temple in Nanjing on November 10, 2007, becoming China's first Italian Buddhist. (Photo: Yangtze Evening)
"I have to speak to journalists all the time. I haven't started (Buddhist meditation) so far," said the 28-year-old, who preferred to be identified only as Lucas.
Lucas during his ordination at Xuanzang Temple in Nanjing last week. [China Daily]
He was ordained on November 10, becoming the first Italian, and perhaps the first foreign Buddhist monk in China, attracting crowds of reporters.
Lucas' ordination took place at Xuanzang Temple, well known for housing the relics of master monk Xuan Zang, who was famous for his 16-year pilgrimage to India and translating Buddhist scriptures in the early Tang Dynasty (618-907 AD).
Lucas used to visit the temple at weekends when he was studying Chinese at the nearby Southeast University.
Explaining his conversion from Catholicism to Buddhism, he said all religions share similar underlying basic truths though they have different cultural manifestations.
The master's graduate from the University of Rome speaks fluent Chinese after spending two years in China. He described his commitment to Buddhism as yuan fen, or destiny.
"Becoming a monk was rather an internal call determined by fate," said Lucas.
Despite the ease with which he changed his religious belief, his tutor at the temple was actually quite cautious in accepting the foreign disciple.
Master Chuan Zhen, the abbot, said he didn't accept Lucas until he passed one year of observation, to make sure that he did not make the choice on the spur of the moment.
"I found that although his knowledge of Buddhism was limited, his belief was strong," Chuan Zhen recalled, stressing that he has a very good understanding of classic Buddhist concepts.
For instance, Lucas' favorite Buddhist hymn is, "Put down the killing knife, and become a Buddhist at once".
"It means that human life is basically a struggle, but one can get internal peace once he stops struggling," said Lucas.
He was confident that he could obey the five basic precepts of morality defined in Buddhism, including commitments not to kill, drink alcohol or engage in sex.
Master Chuan Zhen has a major ambition - that Lucas can one day be like Matteo Ricci, the first foreigner to bring Catholicism to China in the late 16th century.
"I have high expectations of him," said Chuan Zhen. "Some day he might take Buddhism to Rome."