Hong Kong: Cable Car to Buddha to reopen on Dec 31
AP, Dec 19, 2007
HONG KONG, China -- A cable car that takes riders hundreds of feet above Hong Kong's rocky coast to a mountaintop Buddha statue will reopen on New Year's Eve, six months after an empty gondola plunged to the ground, the government said Wednesday.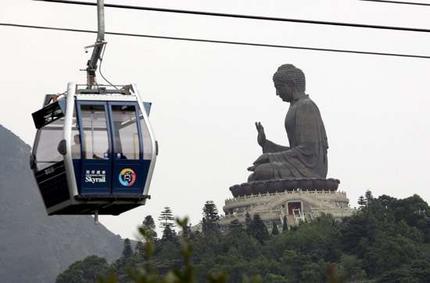 The $125 million ride will undergo a weeklong trial run from Saturday, with the Secretary for Economic Development Frederick Ma to take the first trip in one of the glass and steel cars, the government said on its Web site.
"The cable-car system is verified to be safe after passing a series of tests over the last few months. The reliability test gives a result of 99.3 percent, which is higher than those of similar systems in the world," said Morris Cheung, managing director of the ride's new management team.
The Ngong Ping 360 cable car ride was suspended in June, nine months after opening, after an empty cabin crashed 164 feet to the ground during an overnight test run. No one was hurt in the accident.
A worker was charged with criminal negligence and the Australian management team was sacked and replaced.
The 3.5 mile journey takes about 25 minutes and offers riders a spectacular view of Lantau island's hilly countryside before reaching the Tian Tan Buddha, the world's largest outdoor seated bronze Buddha.
Before the cable car opened, the statue and neighboring Po Lin Monastery were reachable only by a 45-minute ferry ride from Hong Kong island and then another 45 bone-crunching minutes on a rickety bus up through the hilly peaks of Lantau island.
Buddhist monks at the 100-year-old Po Lin monastery, however, had protested plans to develop the site into a major tourist attraction, saying too many visitors would upset their peaceful retreat.
The cable car ride was initially slated to open in the summer of 2006, but was delayed by several months after hundreds of passengers were stranded in cabins during the testing phase.
A round trip ticket on the cable car costs $11.2 for adults and $5.7 for children.