Cable car to Buddha in Hong Kong reopens
AAP, December 31, 2007
Hong Kong, China -- A CABLE car to one of Hong Kong's biggest tourist attractions which plunged 50m to the ground six months ago has been reopened.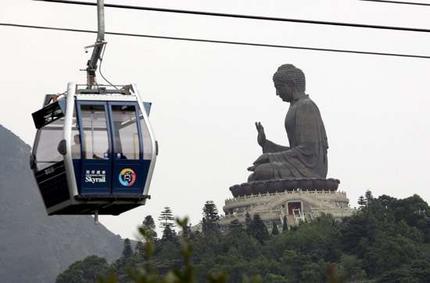 The Ngong Ping cable car, which ferries people to Hong Kong's Big Buddha monument, has been closed since a cabin crashed to the ground in June - less than a year after it opened to the public.
Skyrail, the Australian operator of the cable car, was sacked after an investigation found the incident was caused by a criminal negligence by a worker.
The owners, MTR Corporation, then set up a subsidiary company to manage and operate the system, a government report said in September.
The year-old, 5.7-kilometre ride was closed for an investigation after a cabin broke free during test runs shortly after the $US125 million ($142.9m) ride had closed for the day on June 11.
No one was inside the cabin, capable of carrying up to 17 people, when it fell the equivalent of more than 13 storeys into a mangled heap.
The ride was given the green light to reopen after an expert panel confirmed its design was in line with international safety standards and practices, but a cable car worker was charged with criminal negligence as the result of the investigation, and the entire Australian management team was sacked.
The new operating company brought in following the accident plans to rebuild confidence in the ride with a series of special offers and discounts.
Hundreds of passengers were expected to queue for the ride on Lantau island today after a series of successful test runs involving 40,000 people riding free during the past week.
Managing director Morris Cheung said 450 tickets had been sold in advance for the ride.
"We are ready to run. Morale is high," he said ahead of the opening.
The ride travels hundreds of metres above sea level over steep hillsides to the Big Buddha statue, the world's tallest outdoor seated bronze Buddha.
Accidents involving cable car cabins falling are rare.
In 1976, a steel cable snapped on a cable car at the ski resort of Cavalese, Italy, killing 42 people.