Shaolin plans US$41 mil for new temple
Shanghai Daily, January 3, 2008
Henan Province, China -- Shaolin Temple, the birthplace of Chinese martial arts, plans to spend 300 million yuan (US$41.10 million) on a new temple which will become home to the nation's biggest Buddhist college.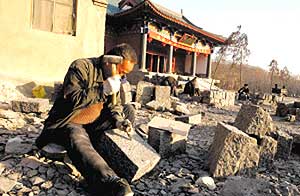 << A worker is busy working at the Donglin Temple
The new temple, on the site of the Donglin Temple in Xingyang County, Zhengzhou, Henan Province, will cover 107 hectares and is expected to take 10 years to build, Shanghai Morning Post reported today.
Donglin used to be a temple for royal families in the Ming Dynasty (1368-1683). Most buildings in the temple have been destroyed in wars since it was built almost 1,800 years ago.
The new temple will include China's biggest Buddhist college and will offer courses in literature, philosophy, logic, English and computing, as well as some traditional Chinese culture such as calligraphy and Chinese medicine, the report cited Shi Yanruo, supervisor of Shaolin Temple, as saying.
Most of the teachers will be monks and the courses will be taught in three schools of Buddhism tailored for students from China's mainland, the Tibet region and southeastern Asian countries like Thailand and Burma, the report said.
Besides preparatory classes and bachelor classes, the college will also set up postgraduate classes, but these will be exclusive to monks, the report added.
Meanwhile, Shi Yongxin, abbot of Shaolin Temple in Henan's Dengfeng City, yesterday ruled out the possibility of the temple making an initial public offering on the Hong Kong Stock Exchange soon.
Such a move may "compromise the ancient temple's reputation," Xinhua news agency reported.
The Dengfeng government established the Songshan Shaolin Tourism Group in August to integrate local tourism destinations including the Shaolin Temple and said the company may launch an IPO on the Chinese mainland or in Hong Kong.
The 1,500-year-old Shaolin Temple reported that it made more than 100 million yuan in ticket revenue alone in 2006.
Shi insisted in previous reports that a business-oriented promotion of the Shaolin Temple and its renowned martial arts would help Shaolin culture grow in fame around the globe.