"Tibetan non-violent struggle must have to triumph"
By Phurbu Thinley, Phayul February 22, 2008
Dharamsala, India -- A group from Thailand led by Ajahn Sulak Sivaraksa, founder and president of the International Network of Engaged Buddhists, are currently in Dharamsala, the seat of the Dalai Lama led Tibetan Government-in-Exile, to express their solidarity with the Tibetan cause and encourage preservation and promotion of the "unique and peaceful Tibetan Buddhist culture".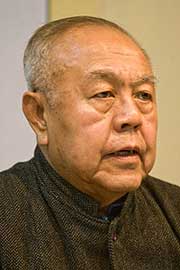 << Ajahn Sulak Sivaraksa, founder and president of the International Network of Engaged Buddhists.(Photo by Tenzin Dasel / Phayul.com)
The group on Thursday met with members of Tibetan NGOs and media to hold an interactive talk.
Earlier on Wednesday, the group had a private audience with the Dalai Lama and was looking forward to meeting the exile Tibetan Prime Minister Prof. Samdhong Rinpoche on a later date.
The group said their visit was to interact closely with Tibetan community and accordingly draw up future plans for the Tibetan cause.
An official from the Central Tibetan Administration introduced Ajahn Sulak as being "very active in supporting Tibetan cause for a long time in Thailand and around the world" through his influence.
"Ajahn Sulak is a very old friend of Tibet from Thailand," the official said. He was accompanied by 14 others from Thailand.
Expressing admiration to the Tibetan struggle, Ajahn said "Tibetan Non-violent struggle based on truth must have to triumph someday" and added that the recent peaceful protests by Buddhists monks in Burma could have been inspired by Tibetan non-violent movement.
"Violent is destructive and will fail and bring more destructions. We must work together for peace," he said. Having worked for Tibetan and Burmese and "untouchables in India" for a long time, Ajahn thinks "the world is changing through compassion now".
"I admire Tibetan people for their determination and wisdom to preserve their peaceful culture," he said.
According to him, "Tibetans are nurturing a Buddhist democracy" and said that it would be a unique contribution to the world polluted by corrupt politicians.
An ardent admirer of His Holiness the Dalai Lama, Ajahn said: "His Holiness is perhaps the one voice leading the world. People around the world now admire him for being a simple Buddhist monk full of sincerity and compassion, and one who practices what he preaches".
"Through His Holiness' wisdom we must cultivate peace. Future of the world depends on peace," he said.
"Under the Chinese hegemony, many south east Asian countries are unwilling to invite His Holiness. And Chinese fear His Holiness the Dalai Lama. When you fear 'a man of love', there is something wrong with you," Ajahn told the Tibetans.
In his interaction with Tibetans, Ajahn said he is personally supportive of the Dalai Lama's stance of middle way approach seeking autonomy rather than independence for Tibet. "Autonomy is more practical at this situation," he said.
He, however, said he would support the idea of "exiled Tibetan people's protest march to Tibet" due to embark from Dharamsala, India, on March 10. He suggested the march should be made international. "Do it with big publicity," he said.
Ajahn Sulak and his friends are now hoping for a possible revisit to Thailand by His Holiness the Dalai Lama in a very long time.