Dalai Lama Won't Stop Tibet Protests
By SOMINI SENGUPTA and HARI KUMAR, New York Times, March 16, 2008
MCLEODGANJ, India -- The Dalai Lama said Sunday that he would not instruct his followers inside Tibet to surrender before Chinese authorities, and he described feeling "helpless" in preventing what he feared could be an imminent blood bath.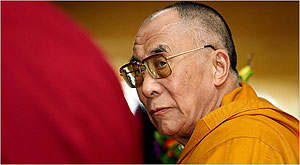 << The Dalai Lama offered prayers in Dharamsala, India, the seat of the Tibetan government in exile.
"I do feel helpless," he said in response to a question at a wide-ranging, emotionally charged news conference here in what has served as the headquarters of the Tibetan government in exile for nearly 40 years. "I feel very sad, very serious, very anxious. Cannot do anything,"
His aides said they had received reports from Tibet of 80 killings on Thursday and Friday alone, in and around the Tibetan capital, Lhasa, including 26 slain just outside a prison called Drapchi. Chinese state media has reported 10 deaths and characterized most of them as shopkeepers "burned to death" during protests.
Tibetan exiles here said they had also received news of at least two Buddhist monks who set themselves on fire as an act of protest; that claim could not be independently confirmed.
For the second straight day on Sunday, protests spread into different Tibetan regions of China. Buddhist monks and police reportedly clashed in a Tibetan region of Sichuan Province. A crowd of 200 Tibetan protesters burned down a local police station, news agencies reported.
One witness said a police officer was killed in the confrontation. But the India-based Tibet Center for Human Rights and Democracy reported that the police in the region had killed at least seven Tibetan protesters.
The Dalai Lama, who heads the government in exile and serves as the spiritual leader of Tibetan Buddhism, called Sunday for an independent international inquiry into the recent violence.
He endorsed the right to peaceful protest, called violence an "act of suicide," and accused Beijing of carrying out "a rule of terror."
Asked if he could stop Tibetan protesters from flouting Beijing's deadline to surrender by midnight on Monday, the Dalai Lama, 72, replied swiftly: "I have no such power."
He said he had received a call on Saturday from Tibet. "'Please don't ask us to stop,'" was the caller's request. The Dalai Lama promised he would not, even though he said he expected the Chinese authorities to put down the protests with force.
"Now we really need miracle power," he said, and then laughed. "But miracle seems unrealistic."
As he entertained questions for over an hour here inside a temple in the lap of snow-capped Himalayas, the limits of his influence, and even his "middle path" message of freedom for Tibetans, rather than total independence for Tibet, came into sharp relief, as thousands of mostly young Tibetan exiles raised a chorus of stridently anti-Chinese slogans and called for secession.
"We the young people feel independence is our birthright," said Dolma Choephel, 34, a social worker active with the Tibetan Youth Congress and who gathered Sunday morning at a demonstration outside the gates of the main town temple. "We understand the limitations of the Dalai Lama's approach. What we got after six rounds of talks — this violence?" She was referring to the six negotiating sessions between the Dalai Lama and Chinese authorities since 2002.
Just behind where Ms. Choephel stood, Buddhist monks began a hunger strike. Protesters laid down Chinese flags on the road, inviting cars and pedestrians to trample on them. Later, thousands streamed down the hill, to Dharamsala town, the largest Tibetan settlement in India. Many of them had painted their faces with the colors of the Tibetan flag. "Long live the Dalai Lama," they chanted, which made it plain that despite their far more radical calls, they remained loyal to his spiritual leadership.
Late Sunday evening, candles were lit on window sills and balconies across these hills. Tibetan-owned shops were closed in solidarity with the demonstrations across the border.
The Indian authorities, meanwhile, found themselves in an uncomfortable diplomatic spot. The Indian police earlier last week had arrested a group of demonstrators who vowed to walk roughly 900 miles from here to Lhasa, but allowed a second group to set off Saturday morning unimpeded.
India has hosted Tibetan refugees since the Dalai Lama's exodus in 1959, but on condition that they not protest against Chinese government on Indian soil. New Delhi's efforts to warm up to Beijing in recent years has made the Tibet issue an exceptionally tricky matter. The Dalai Lama, while acknowledging Indian hospitality to Tibetan refugees — there are an estimated 130,000 Tibetans in India — described the official government position on Tibet as "overcautious."
A young Tibetan monk was less circumspect about government restrictions on the proposed march from India to Tibet. After all, said Tenzin Damchoe, the Indian-born child of Tibetan refugees, Tibetans had learned the art of the peaceful protest march from Gandhi. "It's a little bit disgrace," Mr. Damchoe, 30, said.
As for the revolt inside Tibet, he said he could only imagine the worst. "They crushed their own people," he said of the Chinese response to the Tianemen Square pro-democracy protests in 1989. "There's no doubt they will crush the Tibetan people."
The Dalai Lama, for his part, seemed unfazed about the dissent among Tibetans over full independence versus greater autonomy. Even his elder brother, he recalled, had admonished him many years ago for not advocating independence from China. " 'My dear younger brother, the Dalai Lama,' " his brother told him. " 'You sold out the Tibetan legitimate right. Like that.' "
The Dalai Lama described dissent as "a healthy sign of our commitment to democracy, open society."
Chuckling, he added that the idea might come as "a surprise to our Chinese brothers and sisters."
He described himself as a Marxist Buddhist, quoted Mao Zedong's endorsement of dissent in the party, and blamed local Communist Party officials inside Tibet, rather than the party leadership in Beijing, for what he called the rise of government repression against Tibetan Buddhists in the last couple of years.
He accused Chinese officials of resorting only to force when confronted with a crisis. "They have no experience how to deal with problems through talk, only suppress," he said.
Asked several times whether he endorsed the protests, which had at times had turned violent over the last week, the Dalai Lama said Tibetans were entitled to air their grievances peacefully. "Protest, peaceful way, express their deep resentment is a right," he said.
He said he was aware that the Chinese government blamed him for fomenting rebellion. "I'm happy they found some scapegoat," he said, in half-jest, and then described what he said were deep-rooted grievances.
"Whether the Chinese government admits it or not, there is a problem. The problem is a nation with ancient cultural heritage is actually facing serious dangers," he said. "Whether intentionally or unintentionally, some kind of cultural genocide is taking place."
He maintained that he was not calling for secession from China "in terms of material development is concerned." "We get much benefits," from being a part of China, as he put it and said he could endorse only nonviolent protest. He said he remained supportive of China's hosting of the Olympic Games, but called on the international community to exercise its "moral responsibility" to remind Beijing about human rights.