After unrest, China likely to focus on Buddhism's future leaders
AFP, March 25, 2008
SHANGRILA, China -- Tibetan monks have expressed fears that a stepped-up political campaign following violent anti-Chinese riots in Lhasa would target future Buddhists leaders.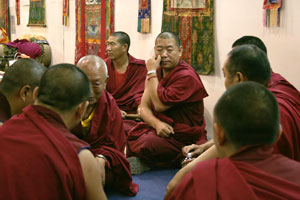 << Tibetan monks fear more Chinese crackdown after the recent riots in Tibet
China has long held a vice-like grip over Tibetan Buddhist monasteries in an effort to curb an independence drive that it blames on the exiled Dalai Lama, Tibet's most revered spiritual leader.
But the recent riots in Lhasa and unrest at monasteries in Gansu, Qinghai and Sichuan provinces almost certainly mean that yet another political campaign against Tibetan monks will soon be unleashed, monks and analysts said.
"There are several of us here who have gone to India and received education by the Dalai Lama, including myself," a monk at the Dhondrupling monastery in Yunnan province, who agreed to be identified by the pseudonym Songsten, told AFP.
"These trips have all been done in secret, but when tensions with the central government are high, these kinds of trips are impossible."
China has blamed the Dalai Lama for the recent unrest and has vowed to step up a "life and death struggle" to crush "Tibetan splittists" and win the hearts and minds of the Tibetan people.
Already monks sit in mandatory political classes at Dhondrupling, a monastery once renowned for its printing of Buddhist scriptures but completely destroyed during the 1966-1976 Cultural Revolution, he said.
But what has become increasingly worrisome is that Chinese authorities are stepping up such indoctrination practices with a young generation of "soul boys," or reincarnated Lamas who will become the next Tibetan Buddhist leaders, he said.
Dhondrupling monastery, which belongs to Tibet's predominant Yellow Hat school of Buddhism headed by the Dalai Lama, has two young living Buddhas, the Gata Lama, about 10 years old, and the Choego Lama in his late 20s, Songsten said.
"The Gata Lama left Dhondrupling several years ago and has not returned," Songsten said.
"The Choego Lama comes back once in a while and from his speech you could say that he is following the teachings of the Communist Party, not the Dalai Lama."
Monks have been told that the two young Lamas were being educated at the government-run Buddhist Institute in Shangrila, some 100 kilometres (63 miles) away.
At Shangrila's Sumtseling temple, once one of the most important Yellow Hat monasteries that was also destroyed in the Cultural Revolution and is being rebuilt as a tourist attraction, monks also spoke of political indoctrination courses.
Sumtseling's young soul boys rarely appear at the monastery, but are largely being educated at the Buddhist Institute across town, said one monk.
According to Chinese state press, there are up to 350 living Buddhas in Tibet, while Western scholars estimate the number could be up to 500 in China, with the Dalai Lama and the Panchen Lama the two most influential.
Following the death of the 10th Panchen Lama in 1989, Chinese authorities controlled the reincarnation of his successor, ignoring the centuries old role that the Dalai Lama has played in the selection of Tibetan Buddhism's second-most important figure.
The current Panchen Lama, now approaching 18, is widely believed to be receiving his education in Beijing, far away from his monastic seat in Shigatse, Tibet, scholars and observers have said.
"China is waiting for the Dalai Lama to pass away so that they can control his reincarnation," Tsering Shakya, a Tibetan scholar at the University of British Columbia in Canada told AFP of the esoteric Buddhist ritual.
"By selecting and educating the next Dalai Lama, the Chinese communists believe that they will be in control of Tibetan Buddhism's two highest spiritual leaders."
The Dalai Lama fled Tibet in 1959 following a failed uprising against Chinese rule.
In recent years he has sought to negotiate a return to Tibet, but China has refused to allow such a move due to alleged independence aspirations, accusations that he has repeatedly denied.
"The political education at the monasteries swings in a pendular fashion from hard to soft," Shakya said. "From the current rhetoric coming out of Beijing it is likely that things will intensify.
"What they are concerned about most is politics and history, that Tibet has always been a part of China and that Tibetan Buddhism has always answered to China's central authorities."