Monks in tears cry out against lies while Beijing instructs foreign journalists
AsiaNews, March 27, 2008
Lhasa, Tibet (China) -- A group of Buddhist monks blocked a tour of 26 foreign journalists in Lhasa, led by the Chinese government, crying out that there is no freedom in Tibet and that the Dalai Lama is not responsible for the recent violence there. Some of them after having cried "Tibet is not free! Tibet is not free!", broke down in tears.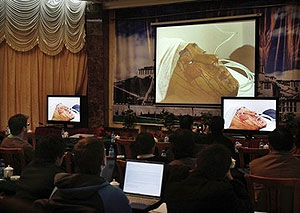 The surprise encounter occurred this morning while the group of journalists visited the Jokhang Temple. The monks interrupted the temples' chief administrators address. Government representatives tried to drag the journalists away. Some of them however, succeeded in exchanging a few words with the demonstrators.
The visit by the group of 26 was organised by the government in their efforts to show that order has returned to Lhasa, in the aftermath of violence which erupted on March 14th, when monks and Tibetans clashed with police and the Chinese army.
The tour of the foreign press is the first since the revolt, organised and orchestrated to reinforce the official line on the clashes: that the Dalai Lama is responsible for the unrest that the victims were only Chinese, and that China is working to develop the region.
This morning the group of journalists – who were "advised" not to move about alone for security reasons – visited a clinic which was attacked during the violence as well as a burned shop, where 5 Chinese girls lost their lives. In precedence the journalists were permitted to watch film footage of the violence attributed to the protesters (see. photo).
Beijing maintains that 22 people died in the clashes. The Tibetan government in exile affirms that at least 140 people were killed.
The monks succeeded in speaking to journalists using the mandarin language. Some of them said that they wanted to run the risk of the serious consequences of their actions, for love of truth. "Do not believe them – a monk told a journalist from Usa Today – they are deceiving you, they are telling you lies!".