Buddhist monasteries in Tibet to resume services
By HENRY SANDERSON, AP, April 21, 2008
BEIJING, China -- Buddhist monasteries in the Tibetan capital of Lhasa are poised to resume religious activities for the first time since protests against Chinese rule turned violent last month, the official Xinhua News Agency said Saturday.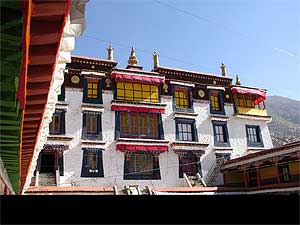 << Drepung Monastery, Lhasa, Tibet
One of Lhasa's main monasteries, the Drepung, will soon hold Buddhist services five times every month, Xinhua said. No date was given for when services would resume.
Monasteries would also reopen to tourism in the "near future" Xinhua said, citing Tubdain Cewang, deputy chairman of Tibet's legislature.
Drepung officials could not be reached for comment Saturday.
Lhasa saw its landmark Buddhist monasteries of Jokhang, Drepung and Sera surrounded by troops after unrest broke out March 14. Chinese government investigation teams have since been going through the monasteries to track down monks who participated in the protests.
The International Campaign for Tibet said last week that a "patriotic education" work team had been sent to Drepung, and food and water supplies at the monasteries in Lhasa were running low as monks were prevented from leaving.
Patriotic education requires monks to do ritual denunciations of their spiritual leader, the exiled Dalai Lama, and accept the Chinese-appointed Panchen Lama.
The unrest in Tibet and protests during the worldwide Olympic torch relay have created a backlash of anger inside China against those viewed as supporting independence for Tibet.
There is an online movement in China to boycott the French retail chain Carrefour because of protests in Paris during the torch relay.
On Saturday, half a dozen people with placards protested at a Beijing Carrefour before police forced them to leave. A small number of police were seen at Carrefours in Shanghai and the southern city of Guangzhou.
There was also a small protest near the French Embassy in Beijing's Sanlitun district, with protesters holding pro-China placards, including one saying "Tibet is part of China." There was an increased security presence in the diplomatic district, including some riot police, and roads leading to the French Embassy were closed off.
Hong Kong broadcaster Cable TV reported that several thousand protesters had gathered outside Carrefour in Hefei, in eastern China's Anhui province. A woman from the Carrefour there confirmed there was a protest and the store had closed, but she would not provide details.
Also Saturday, the English-language China Daily newspaper said that Tibet would reopen to tourists "soon," citing a Tibet government statement to the newspaper, but it did not give an exact date.
Foreigners have not received permits to visit the Himalayan region since the March riots, which the Chinese government says killed 22 people. The Dalai Lama's government-in-exile says more than 140 people were killed in the government crackdown.
Tourism authorities announced earlier this month that foreign tour groups would be allowed back in on May 1, but tour operators in Lhasa later said officials had reversed their decision. Tour operators said the Tibetan Tourism Bureau had told them to stop arranging trips for foreigners, citing the need for safe passage for the Olympic torch relay to the summit of Mount Everest in May and safety concerns in Lhasa.
The regional government of Tibet referred questions to the Tibetan Tourism Bureau. A man who answered the phone at the Tourism Bureau said he did not know about the statement in the China Daily article.
Despite a massive deployment of security forces, anti-government protests have continued to pop up in Tibetan-inhabited areas of western China in the weeks following the riots.
Police beat and detained dozens of ethnic Tibetans during a protest in an ethnic Tibetan region of western Qinghai province last week, local residents and an activist group said Friday.