China agrees to second round of talks with Dalai Lama's envoys
By WILLIAM FOREMAN, Associated Press, May 5, 2008
Beijing, China -- Chinese officials and envoys of the Dalai Lama have agreed to a second round of talks, China's state-run media said Monday, in an apparent sign of progress in easing tensions raised by violent anti-government riots in Tibet.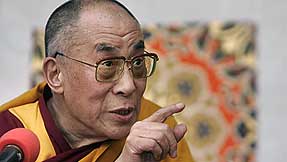 << The Dalai Lama
State television and Xinhua News Agency indicated that the first round of talks had ended after one day, but no formal announcement was made.
CCTV said on its noon news broadcast that the two Tibetan envoys had to report back to the Dalai Lama in India and that both sides "agreed to meet again at a suitable time."
Xinhua said, however, that the Chinese officials told the Dalai Lama's envoys at their meeting Sunday that the protests had spawned new obstacles to communication.
International critics have accused China of heavy-handed tactics in quelling the anti-government riots and protests in Tibet and Tibetan areas of western China. Some experts believe Beijing agreed to meet with the envoys to defuse that criticism ahead of the Beijing Olympics in August.
The talks were held in the booming city of Shenzhen, near Hong Kong, but neither side commented to a large group of foreign reporters waiting outside a palm tree-lined statehouse venue.
Xinhua said the Chinese officials "answered patiently" questions raised by the Dalai Lama's envoys.
But Xinhua added that the Chinese officials told the envoys the violent protests in March "had given rise to new obstacles for resuming contacts and consultations with the Dalai side."
As the two parties gathered, President Hu Jintao said in Beijing he hoped for a "positive outcome" and that the "door of dialogue remains open," Xinhua reported.
But even as the talks took place, China kept up its verbal attacks on the Dalai Lama.
"The central government hoped that to create conditions for the next round of contact and consultation, the Dalai side would take credible moves to stop activities aimed at splitting China, stop plotting and inciting violence and stop disrupting and sabotaging the Beijing Olympic Games," Xinhua said.
The Dalai Lama has repeatedly said he was not behind the recent unrest, and that his envoys planned to ask China to address the accusations, said Samdhong Rinpoche, prime minister of the self-declared Tibetan government-in-exile based in Dharmsala, India.
The Dalai Lama's side also wanted to push for an easing of tensions in Tibetan areas of China, Rinpoche told The Associated Press.
State media gave no other details of the talks, but in previous rounds that broke down in 2006, officials from the Dalai Lama's side brought up such issues as redrawing Tibet's boundaries to include Tibetans living in other areas. There has also been talk of confidence-building measures such as having the Dalai Lama visit China.
China also put its choice for the reincarnation of the Panchen Lama, Tibetan Buddhism's second-highest figure, on state television Monday to praise the ruling Communist Party.
"I deeply pray for the successful holding of the Olympics. Under the leadership of the great Chinese Communist Party, Tibet will definitely get more prosperous, and lives of Tibetan people will become nicer and happier," Gyaltsen Norbu said.
Norbu is not widely accepted by Tibetans as the Panchen Lama. In May 1995, the Dalai Lama chose 6-year-old Gendun Choekyi Nyima as the 11th Panchen Lama. The boy and his family disappeared soon after and have not been heard from since. Human rights groups say the boy has been under house arrest since, a claim China denies although officials refuse to say where he is.
Months later, Beijing named Norbu as the 11th Panchen Lama. Officials have said Nyima and his family are being kept in a secret location for their protection.
China says 22 people died in violence in Tibet's capital of Lhasa in March, while overseas Tibet supporters say many times that number died in protests and a subsequent crackdown.
The Dalai Lama, who fled Tibet during a failed uprising in 1959, says he is seeking meaningful autonomy for Tibet rather than independence from Chinese rule.
___
Associated Press writer Ashwini Bhatia in Dharmsala, India, contributed to this story.