Tallest Buddha Statue Undamaged by Sichuan Earthquake
By Le-Min Lim, Bloomberg, May 17, 2008
Sichuan, China -- The 1,200-year-old Leshan Buddha in China's southwestern Sichuan Province, the world's tallest ancient statue of the deity, was undamaged by the nation's strongest earthquake in 58 years.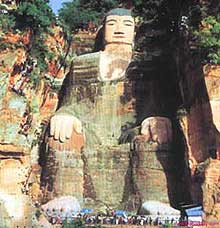 << The Leshan Buddha, in Sichuan province, China
Visitors are barred from approaching the base of the statue, for their safety and can only view it from afar, said Chen Bo, an official at the site's management office. The 71-meter tall Buddha draws about 3 million visitors a year and was restored in 2001.
The May 12 quake may have killed 50,000 people, the state-run Xinhua News Agency reported yesterday. Aftershocks were felt in Leshan City, where the Unesco World Heritage site is located, causing several village houses to collapse, Chen said.
``This earthquake has exacted a tremendous toll on this province and on this country,'' Chen said in a phone interview. ``We are glad the Buddha statue didn't suffer damage.''
The Chinese government warned against traveling to Sichuan, where a round-the-clock search and rescue effort continues for thousands of people still trapped in collapsed buildings. Leshan is located about 300 kilometers from the quake's epicenter.
Sichuan, which means ``Four Rivers'' in Mandarin, collected 121.7 billion yuan ($17.4 billion) in tourism revenue last year, the seventh highest among Chinese provinces, according to the state-run People's Daily.
Tigers, Dragons, Pandas
Popular destinations include the Jiuzhaigou nature reserve, where scenes of Ang Lee's 2000 ``Crouching Tiger, Hidden Dragon'' were shot, and giant panda sanctuaries, both of which are also World Heritage sites.
China's National Tourism Administration had rescued half of the 6,000 local and foreign tourists stranded at Jiuzhaigou, known for its multi-tiered waterfalls, as of May 14, Xinhua reported. The government was planning to evacuate the remaining 2,517 tourists yesterday, including 682 from overseas, Xinhua said. A tourism administration official declined to comment.
A 56-year-old Taiwanese man died when he and 10 other tourists from the island were trapped in cable cars at Lingyan Mountain, a nearby tourist attraction, Xinhua said. He has been cremated in Sichuan.
The quake destroyed or damaged houses and other buildings in 44 counties and districts in Sichuan, with about half of the 20 million population of the area directly affected, Xinhua said. Some 100,000 relief workers, including troops and medical teams, are searching the rubble and bringing in aid.
Wang Lushan was at her computer on May 12 preparing for the eighth anniversary celebration of the Sheraton Lido Chengdu Hotel when the desk began to shake.
The tremors intensified for the next four minutes, toppling the water-dispenser and bonsai trees, she said. In tears, and with the help of male colleagues, the 24-year-old publicity officer hurried down 37 floors to the ground level.
At the 403-room Sheraton Chengdu, repairs are under way in four rooms damaged by aftershocks. The hotel is still accepting bookings, though there are few takers.
``It was scary. I don't want that repeated ever,'' Wang said in a phone interview.