When earthquake survivors got a taste of the Buddha's ways
by Saibal Dasgupta,TNN, Jun 20, 2008
BEIJING, China -- Wang Youqun, a devout 60-year old woman, had a glimpse of the Buddha's ways when she emerged out after spending 196 helpless hours in a confinement of rubble caused by the earthquake in China's southwest province of Sichuan.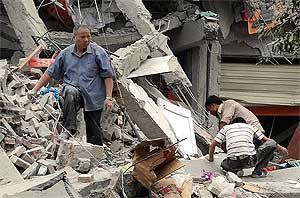 << Stories of "miracle survivors" abound in China's deadliest earthquake in a hundred years
She was praying to Buddha when a falling beam hit her leaving her unconscious. The first to discover her was a barking puppy which woke Wang out of unconsciousness by licking her face.
The puppy's barking drew the attention of the personnel of Chengdu Air Force who were looking for people trapped in debris caused by the May 12 earthquake.
The tragedy has proved to be the mother of miracles. Wang's case is one of the dozens of miracle stories emerging in Sichuan as survivors struggle to shake off the trauma of the earthquake. They also include stories of those who gave their lives to save others.
Rains hampered rescue work making it difficult to save lives in some of the affected areas. But it also helped Wang and hundreds of others to escape dehydration during their hours struck in broken parts of buildings.
When tragedy came, the only food available to another woman, Cui Changhui was a piece of Pear. She struck it out an unbelievable 216 hours eating earthworm, weed and drinking her own urine. She lived those nine days in the crushed building of her workplace, which had been deserted by other workers when the quake struck.
Chi was spotted by an overflying helicopter before relief worker identified the exact location of her debris-prison and saved her.
Coma overcame Lai Pingyuan, a miner, after being dashed around by the tremors. It took 1,200-ml of blood infusion to save the miner, who had spent eight long days in coma and with injuries.
An operation was also carried out to remove blood clotting in his head. When Lai came back, it took him quite some time to reorient himself to the fact that he was alive and begin to speak.
Roof collapsed over the heads of Tang Xiong, a medical doctor, and his wife in their own home. They were trapped in separate parts of the living room with rubble in between. His wife's constant encouragement kept up the spirits for Tang, local reports say.
It took the rescuers many hours to pull out Tang even after his wife had been rescued because relief workers did not have sufficient equipment to reach him within the depth of the debris.
A miracle of different sorts surfaced in the form of a school principal, Ye Zhiping, who has been credited with saving 10,000 students. Ye has been persuading the local government to reconstruct the dilapidated building in which the school was housed.
The reconstruction did take place. Ye had also been training his students to handle emergencies. These twin efforts by Ye is seen as important reasons why as many as 10,000 students of his school went unhurt when quake struck.