Chinese monks call for improved educational opportunities
By Zhang Ming'ai and Wu Jin, China.org.cn, July 11, 2008
Shanghai, China -- Chinese Buddhism needs reach out to the world, and Buddhists are enthusiastic about overseas study. These were the messages from a seminar held for returning oversea students at Shanghai's Jade Buddha Temple on July 9, 2008.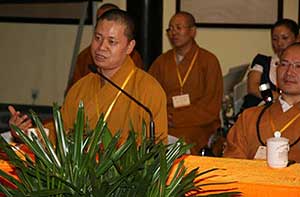 << Jing Yin, director of the University of Hong Kong's Centre of Buddhist Studies, speaks at the sideline seminar on the evening of July 9, 2008.
At the seminar, Buddhists expressed their hope that religious institutions and the government would cooperate to provide more opportunities for Buddhists to further their studies abroad.
Liu Wei, deputy secretary-general of the China Religious Culture Communication Association, said, "Exchanges between Chinese and international Buddhism depend on talented Buddhists who have mastered foreign languages. The State Bureau of Religious Affairs, the China Religious Culture Communication Association and other bodies should encourage and support Buddhists who wish to study abroad."
Master Zhan Ru, Professor of Oriental Languages at Peking University said China invests too little in overseas studies for Buddhists. Too few Buddhists get the opportunity to study abroad and those that do often have to support themselves with part-time jobs. He also said attracting students back to China was a problem that needed urgent attention.
Master Jing Yin, Director of the University of Hong Kong Centre of Buddhist Studies said overseas study is only method among many for training Buddhist monks. The most talented students should be sent abroad but they should remain grateful for the opportunity and "bear in mind what they should do for the country and society instead of what they can get from the country and society."
He commented on returning Buddhists who find it hard to get a suitable position back in China. "In my opinion they should lower their expectations. Studying abroad doesn't make them superior to other monks."
Jing Yin also said Westerners find Buddhist studies difficult due to the language barrier. He said China had a responsibility to spread Buddhism to the whole world. "For China, a huge country with 1.3 billion people, anything is possible."
Others said overseas students need improved opportunities to attract them back home.
"We need to create more opportunities for overseas students," said Monk Puzheng, deputy director of the international department of the Buddhist Association of China. According to him, overseas students should be offered employment opportunities for them commensurate with their knowledge.
Monk Benxing, general secretary of Fujian Buddhist Association agreed with Monk Puzheng. "It's hard for overseas students to know the situation back home after being abroad for long. They encounter numerous difficulties when coming back to work. It takes years for them to adapt to their new surroundings."
Despite the obstacles that overseas Buddhists encounter when coming home to work, experts believe China should send more Buddhist students overseas. "It is important for Buddhist students to acquire an international perspective," said Monk Benxing.
Zhao Tong, a professor at Beijing Foreign Languages Studies University said the world knows comparatively little about Buddhism, and China needs its overseas students to help translate Scriptures. "The overseas students have studied really hard. The country should set up a project to attract them back," he said.
The three day 2008 Seminar on Buddhist Studies in Foreign Languages wound up July 11 in Shanghai. Nearly 90 Buddhists delivered speeches in foreign languages, including English, German and Japanese during the seminar.