Shaolin takes over four Kunming temples
by Zhang Ming'ai, China.org.cn, December 15, 2008
Kunming, China -- Fourteen Shaolin monks arrived in the ancient town of Guandu, near Kunming, capital of Yunnan Province, on December 13 to take over the management of four temples. Their aim is to combine Shaolin Chan Buddhism (often known in the West by its Japanese name, Zen) and martial arts, with Yunnan's native Buddhist culture.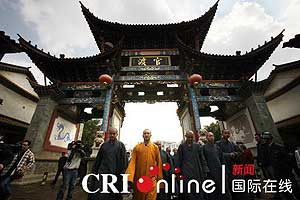 << Fourteen Shaolin monks arrived in the ancient town of Guandu near Kunming in Yunnan Province on December 13 to take over the management of four temples.
All but one of the fourteen Shaolin monks were dressed in gray; the exception, in orange robes, was 36 year old Shi Yanjiang, who is the personal envoy of Shaolin Abbot Shi Yongxin. Shi Yanjiang will be in overall charge of the four ancient Kunming temples.
According to Shi Yanjiang, Shaolin Temple has agreed to take over the four temples because the local government has shown great respect to freedom of worship and belief. He said the Shaolin monks will contribute their Chan style of Buddhism and their medical and martial arts skills, and attempt to combine them with Yunnan's traditional Buddhist culture. They plan to help local people keep fit by practicing martial arts and Shaolin medicine.
Shaolin martial arts are actually a way of practicing Chan, Shi added. They had their origins in exercises carried out by monks after long hours of meditation. Later they evolved into a school of kungfu, but their main purpose is to help people to live in a positive and healthy way. So the monks plan to set up martial arts classes for children and amateurs, as well as keep fit classes for older people.
"We will hold our usual Shaolin morning and evening classes, and discuss with the Yunnan monks on how to combine the Shaolin and Yunnan Buddhist cultures," Shi said. He added that the monks will carry out charitable work, such as establishing orphanages and old people's homes.
They also plan to recruit monks from southwestern China and further afield in Asia and plan to form martial arts groups.
The monks who traveled to Kunming are all skilled in martial arts, and some are also expert painters. Despite being relatively young, most of them have been practicing Buddhism for over ten years.
One of the older monks, Shi Yongwu, is an expert in martial arts and medicine. The Shaolin abbot hopes that sending him to Kunming will help spread Shaolin medicine in southwest China.
For two of the monks, the move is a homecoming, since they were born in Yunnan.