Tibetans fear for Buddhist culture
by Prerna Suri, The Buddhist channel, Feb 12, 2009
Lhasa, Tibet (China) -- Lhasa, the capital city of Tibet, has undergone a massive economic transformation for the last 10 years ever since the Chinese started their ambitious economic drive.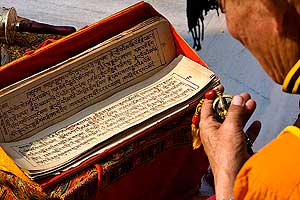 Once a fabled land, now a part of 'China rising', Tibet has witnessed tectonic changes in the past decade.
Neon lights in Chinese now dominate the skyline, instead of Buddhist stupas.
And from spanking new roads to gleaming glass buildings monks and models seamlessely walk past each other in Lhasa's newly constructed downtown area.
Even local cinemas show the latest in Chinese Kung fu movies, instead of Tibetan films, making the east meet the further east.
The Chinese government has spent millions in developing Tibet's economy. These measures have ushered in modernity to the region, but traditional Buddhist culture is under siege.
Says Professor O'Connell, an American tourist: "There's no question that as Tibet modernises under Chinese rule that you're going to lose some of these things. Those who study Tibet worry a little but about it. But I think that there's such a strong and heavy powerful Tibetan culture alive and vibrant here that I really think you're going to have a superficial, a facade of change."
Lhasa's most famous landmark -- the Potala palace, once the winter palace of the Dalai Lama, is now more a tourist attraction than a spiritual centre."
Inside, the mere mention of the Dalai Lama is met with worried looks.
Last year this culture clash came into sharp focus when Buddhist monks and ordinary Tibetans clashed with Chinese forces.
At the Jokhang temple, the Chinese presence is everywhere. Spirituality, now, mixes with commercialism. As Tibet develops, this once isolated land and its people continue the struggle to maintain its ancient traditions.