Repair of 450-year-old Tibetan Buddhist monastery to finish by yearend
Xinhua, March 9, 2009
XINING, China -- China will conclude the third round of large-scale renovations on the Taer Monastery in northwest China's Qinghai Province by the end of 2009, said a monastery official here Monday.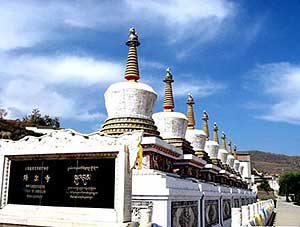 << Photo shows the Taer Monastery in northwest China's Qinghai Province.It is one of the six best known monasteries of the Yellow Sect of Tibetan Buddhism. (Photo: China.org.cn)
Two of the four temples, the Great Temple of Golden Tiles and Jiujian temple, scheduled for the repair, are almost finished.
"The repair work of another two key buildings just started," Gyaltsen Wangdan, an official in charge of the monastery management, told Xinhua by phone.
The Taer Monastery, built in 1560, is currently undergoing its third large-scale renovation. The repair started in April 2008 with financial support of 25 million yuan (about 3.65 million U.S. dollars) from the central government.
The Taer Monastery is one of the six biggest temples of the Gelug Sect in Tibetan Buddhism. It was built by the Guru Tson-Khapa, founder of the Gelug Sect and the teacher of the first Panchen Lama and the first Dalai Lama.
The monastery is well known for its brilliant architectural construction, about 20,000 religious paintings, appliques and butter sculptures. However, in the past four centuries, it has been damaged by fires, earthquakes, landslides and foundation subsidence.
China conducted a four-year renovation to the monastery in 1992 at a cost of 37 million yuan (5.3 million U.S. dollars). The second repair was launched in 2001 on the main palace at a cost of more than 30 million yuan.
Jianzan said the monastery might have further repair if necessary.
According to the provincial cultural heritage bureau, China has been spending more than a hundred million yuan in recent years repairing Tibetan Buddhist monasteries in Qinghai.
As of the end of 2008, the country spent another 25 million yuan repairing the 700-year-old Rongwo Monastery in southeastern Qinghai's Huangnan Tibetan Autonomous Prefecture. The monastery is now in the fifth stage of a large-scale repair project.
Other Tibetan Buddhist buildings in repair include the 600-year-old Qutan Monastery and the 500-year-old Jade Emperor Pavilion.