Shaolin Temple Under Hacker Attack
By Ellen Zhu, WSJ, November 13, 2009
Beijing, China -- Shaolin Temple, the world-famous birthplace of Chinese Kung Fu, was attacked by hackers twice this month, reflecting long-standing ill feeling about the temple's aggressive commercial activities in recent years.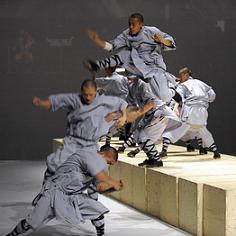 << AFP/Getty Images. Shaolin monks in the ballet "Sutra"
Wednesday morning, the temple's Web site showed a "Letter of Apology" that purported to be written by Shi Yongxin, the abbot of Shaolin, outlining a series of misdeeds to gain fame and wealth for himself over the past years. Just seven days earlier, hackers had posted on the site a black note — written in stylized Chinese calligraphy — reading "Shaolin evildoer Shi Yongxin, go to hell."
Management of the temple said the letter was fabricated by hackers and quickly closed the site. The temple said it has called in police to help with the investigation.
Meanwhile, snapshots of the letter and the note have been broadly circulated on Chinese Web forums.
Some excerpts from the "apology" letter (now closed):
"I feel shamed in front of Shaolin Temple and so many Shaolin monks and worshippers. Looking back on my experience sinking from an abbot to a sinner, all I feel is deep sorry and regret.
Since I was named abbot of Shaolin Temple in 1999, i have hooked up with local government officials to push through demolitions and construction in areas near the temple.
I gained fame for Shaolin Temple and myself at the price of the purity and holiness of the Buddhist temple.
In order to satisfy my private desires, I traveled in a fancy SUV with a chauffeur and jetliner, spent 160,000 yuan for a tailor-made cassock from Nanjing. I also raised a mistress (split now). I stayed in luxurious hotels and lived a corrupt life.
Today I borrowed the Web page of Shaolin Temple to publish this letter of apology. I don't dare to ask for forgiveness of Buddha but just hope I won't go even farther on this path of commercialization."
Some details in the letter appeared to draw on previous criticism of excessive commercialization of the Buddhist temple.
For example, Shaolin Temple opened a Taobao shop last year to sell a variety of Shaolin-related products, including a Kung Fu instruction manual, "Shaolin Kungfu Secret Strategies," which was offered for sale at 9,999 yuan (around $146). Critics say that publishing the temple's internal Kungfu teachings improves the odds for people to use the skills for questionable purposes.
The temple was also criticized for charging as much as 100,000 yuan for incense. Some people complain that the temple and the abbot are only interested in hosting wealthy entrepreneurs, movie stars, government officials and foreign guests, rather than more humble pilgrims.
The abbot himself was also accused of living a "luxurious" life in contrast with the traditional belief of Buddhists to be as frugal as possible.
Nicknamed the "CEO of Shaolin," Shi Yongxin has promoted Shaolin in areas involving movies, performances and tourism. In 2006, the abbott was awarded a luxury sports car by the government in Henan for his contributions to the local tourism industry.
His plans to build new Shaolin temples in Tianjin and Taiwan were criticized as an attempt to exploit the Shaolin brand.
Shaolin Temple and the abbot have said these efforts are aimed at promoting the Shaolin culture on the world stage.
The latest hacker attacks have served to spark fresh anger and criticism against their strategies.
One blogger wrote, "Anybody who understands the truth of Buddhism would be critical of the current Buddhist temples…even if this reasonable and sincere letter of apology was from the hackers, it is worth attention from the Shaolin Temple because it tells the common views of many people who care about the future of the temple".
"The pure reputation of Shaolin Temple for hundreds of years has been tainted with the stink of money all over. How dare you still call yourself a monk?" said one comment on netease.com.
Another blogger, "Jiang Feng," wrote: "Monks are poor but respected. However, many monks now are pioneers of fashion. Their clothes, food, housing and transportation all use famous brands…is it against the thousands of years of Buddhism culture?"