Zhengzhou: Between peace and physicality, there is Shaolin
By Yvonne Tahana, New Zealand Herald, Feb 10, 2010
Mt Shaoshi, China -- Chinese emperors dubbed Shaolin Temple the First under Heaven and blanketed in the first snowfall of winter it truly looks otherwordly.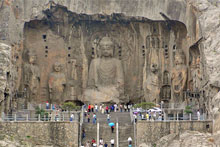 << Visitors inspect giant Buddhist statues. Photo / Natalie Gauld
The temple is built on Mt Shaoshi and when we arrive night is falling and snow is thick on the ground. Ice covers the little stone footbridge tourists cross to enter the main grounds, though this late in the day there are very few people around. That's a blessing because this beautiful place feels like it should be guarded jealously.
Established in 497, Shaolin is the birthplace of Chinese Zen Buddhism, but martial arts made it world famous. Those two roles lend a striking duality to the place: stillness and frenetic energy.
Chinese superstars Bruce Lee, Jet Li and Jackie Chan all learned Shaolin's version of Kung Fu and our guide also tells us that Russian leader Vladimir Putin, a practitioner, has been honoured as a guest. By contrast, young monks, heads shaven, stand silently at the door where huge painted fighting forms watch as people pass through into the temple.
Incense burns outside red painted wooden buildings where courtyards with lotus flower footpaths wind their way past dragons crowned in white, statues of smiling big-bellied Buddha and 2m tall plinths.
At the centre of Shaolin, grey stones lead up towards a hall closed off by a heavy screen. Pushed back it reveals a massive golden Buddha.
Shaolin's story began when Batuo, an Indian monk favoured by Emperor Xiaowen, travelled to the then capital city at Luoyang.
He worked to translate Sanskrit Buddhist teachings but the city's pace, ramped up by its status as the eastern starting point of the Silk Road, forced Batuo to travel to the mountains for peace.
Xiaowen, a monarch in the Northern Wei dynasty, built the temple for him to help move the work along.
The monk took one Chinese disciple with him, a Kung Fu adept, who knew his job wouldn't only be to follow but also to protect the monastery's wealth from bandits. The daily ritual of martial arts practice was driven by necessity but the relationship between the pair melded together forever two Eastern philosophies.
However, it was another Indian monk - Dharma - who transformed the nature of the religion.
When he arrived locals thought the dark-skinned monk was a devil, because he'd cut off his eyelids to help achieve higher planes of meditation.
That hideous appearance denied him entry into the temple and human contact. Undeterred he set himself up in a cave and for nine years practiced meditation in isolation, creating Zen Buddhism.
In recent years Shaolin monks have opened up their way of life to the outside world. The Government has opened a Kung Fu training centre which draws students from around the world, and a performance group 200-strong has travelled to 80 countries. Visitors can watch night-time performances of young fighters whose bodies move like the steel they wield. Double hooked blades, nine-sectioned whips, knifes and spears all feature in exhibitions which see boys and teenagers nonchalantly flipping and spinning around each other.
But that show, in a separate compound from the main temple, is a taster for a more epic setting many of the monks now perform on. Mt Shaoshi is part of Songshan Mountains and nearby Mt Songshan provides a 1400m stage, half carved by nature, where 700 monks, martial arts exponents, actors and singers belt out songs which echo off the cliffs.
Grammy and Oscar award winning musician Tan Dun, who won awards for his work on Crouching Tiger Hidden Dragon and Hero, scored the programme whose name in English means Zen Music Shaolin Grand Ceremony.
Part musical theatre, part opera, it has coloured lights dancing over narrative images. On a winter's night in subzero temperatures the scale of the production is jaw dropping - an amazing mix of physical energy and tranquil beauty - just like this place.