Shaolin Abbot calls for social harmony
By Wang Ke, China.org.cn, March 8, 2010
Beijing, China -- Buddhism shares with traditional Chinese culture a deep reverence for the value of harmony, and its doctrines promote social accord and world peace, the abbot of the Shaolin Temple told China.org.cn.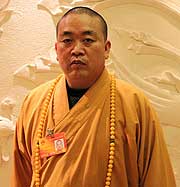 << Shi Yongxin, a deputy from Henan Province to the National People's Congress (NPC) in Beijing, said one of the basic doctrines of Buddhism is to do no evil, to do only good, and to purify the will. Shi Yongxin, abbot of the Shaolin Temple, said that social harmony is a basic value of Buddhism. [Wang Ke / China.org.cn]
As a religion with "profound ideas of harmony and a concept of peace," Buddhism can help prevent conflict among people, promote social accord and harmony between man and nature, Shi said.
Buddhism took root in China after being introduced from India more than 2,000 years ago. There are now more than 100 million Buddhists in China.
Shi said Buddha's vision of peace is more relevant than ever before, and called on people everywhere to work together towards the common goal of a harmonious and peaceful world.
"As a responsible country, China has its own profound beliefs and vision for the promotion of world harmony," he said. "Religious beliefs are one of the important social forces from which China draws strength."
He said that throughout history Buddhism had helped avert conflict and preached a doctrine of peace among people and between humanity and nature.
"All schools of Buddhist are equal and co-exist peacefully and amicably. And Buddhism has become an important channel for international cultural exchange," he told China.org.cn.
While Buddhism values unity over division, there is a deep-rooted acceptance of the concept of difference and variety in all aspects of life. Its philosophy of selflessness, charity, respect, equality and tolerance naturally leads it to promote and safeguard world peace, Shi said.
Shi said that at this year's session of the NPC he was planning to introduce legislation to protect traditional Chinese culture, and in particular the unique Buddhist traditions of the Shaolin Temple.