Buddhist monks engage in rescue efforts
Hindustan times, April 17, 2010
Qinghai, China -- The massive earthquake that hit Tibetan dominated Qinghai province is unlike any other calamity in China as red and orange robed Buddhist monks and ceremonies played important role in handling the tragedy in which over a thousand people were killed.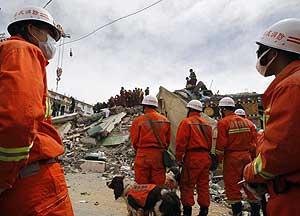 << Rescue workers watch as Tibetan monks help to search for survivors on top of a collapsed building after an earthquake hit Yushu County, northwest China's Qinghai Province, on Saturday. Photo: AP.
Scores of red and orange robed monks who were initially dazed by the extent of devastation caused by the 7.1 magnitude quake in Yushu prefecture close to Tibet destroying homes and many temples converged in big numbers to rescue those caught in the rubble, consoling the survivors and cremating the dead.
In Jiegu one of the worst hit towns of the quake hundreds of bodies were cremated amid chants of hymns by th e monks.
Tibetans traditionally perform sky burials, which involve chopping a body into pieces and leaving it on a platform to be devoured by vultures.
But the authorities have decided to cremate victims because of fears that disease may spread rapidly, a BBC report said.
"The vultures can't eat them all," said one local man. Local monks constructed a huge funeral pyre near Jiegu township to cremate the dead.
After the earthquake, many residents of the largely-Tibetan town turned to the monks and their traditions for help, rather than a central authority dominated by the majority Han Chinese.
Thousands of people have been left homeless, with many having to sleep outdoors in freezing temperatures.
Ninety-seven per cent of the Yushu prefecture which was hit by the earthquake were ethnic Tibetans.
Dalai Lama's appeal
The Dalai Lama appealed to Beijing to allow him to visit the province in China where he was born to comfort the victims of a deadly earthquake.
"To fulfil the wishes of many of the people there, I am eager to go there myself to offer them comfort," the exiled Tibetan spiritual leader said in a statement issued from Dharamshala.