Flowing queues of pilgrims, Buddhists mark Sagadawa festival in Tibet
by Wang Guanqun, Xinhua, May 15, 2010
LHASA, Tibet (China) -- Losang crawled on the ground and prostrated herself as she moved through the crowds on the Potala Palace square in Lhasa.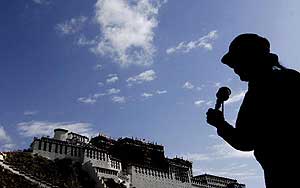 << A Tibetan ethnic woman walks with prayer wheel in front of the Potala Palace in Lhasa, capital of southwest China's Tibet Autonomous Region on May 14, (April 1 on Tibetan calendar) 2010, the first day of Saga Dawa Festival, which will last for one month. The festival marks the birth, enlightenment and death of Sakyamuni. (Xinhua/Purbu Zhaxi)
With two spiral sea shells, or conches, in hand, Losang had made hundreds of bows Friday morning as the month-long Sagadawa festival started.
Losang, a Tibetan woman in her 30s, said she prayed for safe and happy lives for her family.
The Sagadawa festival, which falls on the first day of the fourth month of the Tibetan lunar calendar, commemorates and celebrates the birth and death of Sakyamuni.
According to the regional tourism authority, Tibet expects to receive 6.5 million tourists this year, up 16 percent from last year.
Over the next month, Tibetans will hold Buddhist rituals such the liberating of captive animals in memory of Sakyamuni.
On Friday, pilgrims were seen at major monasteries and streets in Lhasa, some coming from neighboring provinces. Tourists from abroad also took in the sights.
Sambo, in red monk's robes, drove 11 hours to Lhasa from Chakri Monastery in Nagque county
He and his friends planned to stay for the whole month.
"I pray for a peaceful and safe world, and hope quake victims in Yushu will find way to heaven in transmigration," he said.
At least 2,200 people died in the 7.1-magnitude earthquake that rocked the Tibetan Autonomous Region of Yushu in Qinghai Province on April 14.
While some devout Tibetan Buddhists made long prostrations, others held prayer wheels and walked clockwise around the Potala Palace and the Jokhang Temple, two major pilgrim routes in downtown Lhasa.
Quzhen, 32, carried her 3-year-old boy on her back and took her 10-year-old girl by the hand, walking around the Potala Palace. They were accompanied by two female relatives from other regions in Tibet.
Twirling a prayer wheel, Quzhen said they had walked round the Potala Palace twice since early Friday, and planned another three circuits.
In the square outside the Jokhang Temple, hundreds of pilgrims crawled on the ground facing the temple and prostrated themselves in long prayers on meter-long cushions.
Near the temple, Zhoema was selling yak butter to pilgrims. The liquid yellow butter is used to fuel ghee lamps in the temple.
Zhoema said she had sold 10 pots of butter in two sizes, at 13 yuan (1.9 U.S. dollars) or 25 yuan per pot, in the morning. "Business is good as people stream in during the festival," she said.
Long queues formed outside the main shrine of the Jokhang Temple. Inside, banknotes donated by pilgrims spread out in front of each Buddha statue and portrait.