Baima Buddhist center offers blessed relief
by Zhang Leilong and Zhang Yitian, China Daily, Aug 27, 2010
BEIJING, China -- Enlightenment calls, even though it is 37? under the mid-afternoon sun and sweat rolls off people's foreheads as if they are in a sauna.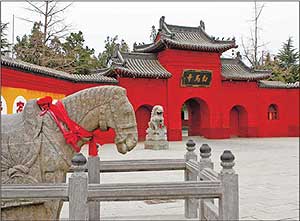 << Baima Temple (Photo: China Daily)
Despite the blistering heat, there are plenty of tourists patiently passing from hall to hall at Luoyang's Baima (White Horse) Temple.
Baima is famed among Chinese people as the country's first Buddhist temple. It was constructed in AD 68, but little of its original structure has survived.
According to legend, the Eastern Han Emperor Yongping (reign: AD 57-75) dreamed of a golden figure with a halo, which his advisers assumed was the Buddha, in India. Emissaries were sent abroad to learn more about Buddhism and they returned years later with two Indian monks on white horses, bearing sutras and statues.
Baima was constructed to honor the monks, Kasyapamatanga and Dharmaranya, and they were later buried in one of its courtyards. They translated the seminal text Sutra in Forty-two Sections into Chinese at the temple's Qingliang Terrace.
In light of its history, Baima aims to become a leading center of Buddhism in Asia and has an Indian Buddhist shrine made entirely of Indian materials, a gift from the Indian government that was completed last year. Nearby, a Thai Buddhist shrine, built in 1992, is being expanded.
Master Mingyan, Baima Temple's abbot, says foreign monks regularly visit to study and there are plans to collaborate with their counterparts in Cambodia and Japan.
"We hope all the Buddhist shrines in Southeast Asia will be displayed at Baima Temple," says Guo Hongchang, the mayor of Luoyang.
"To be the world's Buddhist cultural center ... is the ultimate goal," he says, adding the temple grounds will increase from 20 to 80 hectares.
Meanwhile, monks study and recite the sutras, the abbot practices his calligraphy and devotees light incense and pray for good fortune - just as they have been doing for centuries.
One of the few concessions to modernity, air conditioning inside the temple's receiving room, is a blessed relief on such a sweltering day.