China's new management measure for Tibetan Buddhist monasteries denounced
By Phurbu Thinley, Phayul, October 27, 2010
Dharamsala, India -- The religious and cultural department of Tibet's Government in exile and the heads of major schools of Tibetan Buddhism, now almost all based outside of Tibet, Wednesday formally repudiated China's plans to tighten control over Tibetan Buddhist monasteries and temples.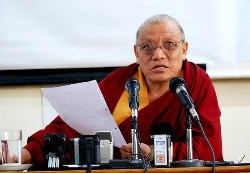 << Kalon (Minister) for Department of Religion and Culture of the Central Tibetan Administration Ven. Tsering Phuntsok speaks during a press conference in Dharamsala, India, October 27, 2010. (Photo: Phyul/Norbu Wangyal)
China last month announced that new a regulatory measure would be put into place for stricter management of Tibetan monasteries in its stated effort to reduce the influence of the exiled Dalai Lama and other "internal and external separatist forces".
On September 30, the State Administration for Religious Affairs issued a 'Management measure for Tibetan Buddhist monasteries and temples' called the Order No. 8 to be applied from November 1, saying it was devised in response to a growing foreign influence and 'separatist activities.'
At a press conference here this morning, the minister for the Department of Religion and Culture of the Central Tibetan Administration (CTA) Ven. Tsering Phuntsok said the so-called Order No. 8 was designed with an "evil intent" to disturb normal order of the Tibetan Buddhism.
He said the new regulatory measure forced on Tibetan Buddhist monasteries is not only a plot by the Chinese authorities to reduce the influence of the Dalai Lama, whom Tibetans revere as the supreme spiritual leader, but also to create divisions between Tibetan Buddhist faithfuls inside and outside of Tibet.
"This regulation is an evil design on the part of the Chinese government to obstruct the Buddhist teachings and its sacred transmissions inside Tibet and makes it extremely difficult for the monastic institutions to undertake their important religious activities," Ven. Tsering said.
"This is also a means employed by the Chinese government to not only to destroy the tradition and study of Tibetan Buddhism but also to uproot the monastic institutions and the transmission of Buddhist teachings in these centers of learning by diluting the spiritual bond between teacher and pupil," he added.
The religious minister said that the People's Republic of China, which claims itself to be officially an atheist state, cannot have the authority to formulate rules and regulations on the management of religious affairs of the Tibetan Buddhism.
"Also the religious heads and scholars of Tibetan Buddhism and also that of the ancient Bon tradition of Tibet as a whole are currently living outside Tibet. And hence, the lineage of the sacred Buddhist teachings and initiations can be said to be existing in the exile Tibetan community," Ven. Tsering said.
He further added that every year hundreds of Tibetan Buddhist monks and nuns, and even high lamas, continue to flee Tibet to avoid religious persecution under Chinese control and to pursue their religious studies and practice more openly in the outside world.
Ven. Tsering said while on the surface some of the provisions laid down in the new regulatory measures appeared to bear positive and constructive aspects, on deeper scrutiny, he said the Chinese government's subtle plot to undermine the normal order of Tibetan Buddhism was very much evident.
"Today, Tibetan Buddhism is not only confined to Tibet itself, it has spread far beyond it. So China must understand that its unthoughtful intent to undermine the survival of Tibetan Buddhism by making strict regulations is a step in the wrong direction," Ven. Tsering said.
In recent years the religious affairs of Tibetan Buddhism has become a thorny issue for China.
In 2007, China's State Administration of Religious Affairs implemented a new law called the order no. 5, containing 14 articles on Management Measures for the Reincarnation of 'Living Buddhas' in Tibetan Buddhism.
The order bans Tibetan lamas, or trulkus, from reincarnating without Chinese government approval and says anyone outside China cannot influence the reincarnation process and only monasteries in China can apply for permission.
Even prior to this measure, another regulation "Measures for the Regulation on Religious Affairs" with 56 articles was issued by the 11th Standing Committee of the "Tibet Autonomous Region" ("TAR") People's Government on 19 September 2006 and entered into force in January 2007.
China has long-considered religion as a key element of Tibetan identity and monastic institutions as hotbed of political dissidence.
Following widespread unrest against Chinese rule, largely led by monks and nuns, in 2008, Chinese Communist government launched renewed and intensified "Patriotic Education" campaign covering almost every sections of society and mainly targeting the monastic institutions.
Under the campaign, Chinese "work team" officials are sent to especially monastic institutes on a regular basis to "educate" monks and nuns to be patriotic towards nation and one's religion, and to oppose 'splittist' forces, which include denouncing the revered Tibetan spiritual leader the Dalai Lama, whom China reviles as a "splittist".
Meted out with serious threats involving imprisonment and expulsion from monasteries, monks are compulsorily forced to give their signatures or finger prints to express their non-allegiance to the Dalai Lama.
Reports have surfaced in recent years of monks succumbing to suicides in the aftermath of political indoctrination classes and in the face of growing religious oppression in the monastery.