Buddhism Enjoys A Revival in China
By Mitch Moxley, IPS News, Dec 1, 2010
BEIJING, China -- Quan Zhenyuan discovered Buddhism by accident. After the owner of a vegetarian restaurant here in the Chinese capital gave her a book about the religion, she became hooked. Today, Quan is one of a growing number of urban Chinese who turn to Buddhism for spiritual fulfillment.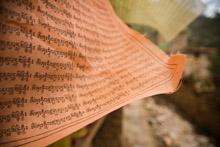 << Tibetan prayer flags in Zhong Lu village, China's Sichuan province. / Credit:Mitch Moxley/IPS
"I always used to believe Buddhism is a kind of superstition, but I changed my mind completely after reading the book" called 'Recognising Buddhism', says Quan, 32, an executive manager at a tourism agency in Beijing. She says Buddhism has taught her how to better solve problems and cooperate with employees and clients. "Buddhism gives me peace of mind."
China, an officially atheist country, is experiencing a Buddhism revival.
In the three decades since Premier Deng Xiaoping announced the 'Reform and Opening Up' policy, a spiritual void has opened among many Chinese, experts say. Stressed and overfocused on careers and material gain, many of its citizens have started to look for answers in religion, none more than Buddhism, which has a 2,000-year history in China.
A 2007 survey by the Research Centre for Religious Culture at East China Normal University found that of 4,500 people questioned across 31 provinces and autonomous regions, 33 percent claimed to believe in Buddhism.
Liu Zhongyu, the research team's leader, told Phoenix News Media that "Buddhism is the major belief among intellectuals and young people" in China. He said that more than 300 million Chinese likely believe in Buddhism. Ten years earlier, the State Bureau of Religious Affairs pegged the number at 100 million.
Liu attributed the growing interest in Buddhism to social instability, pressures and anxiety caused by the rapidly developing market economy in China.
The Chinese Academy of Social Sciences' 'Blue Book on China's Religions' said Buddhism has experienced a "golden period" during China's three decades of reform. During this period, nationwide organisational systems have been created, conducting summer camps and public education activities.
Research by the Centre on Religion and Chinese Society at Purdue University in the United States, announced at the 7th Symposium of the Social Scientific Study of Religion in China in July, found that interest in Buddhism has exploded in the last three decades. About 185 million Chinese follow Buddhism today, the Centre found.
Around the first century AD, Buddhism began to spread from India to China via the Silk Road. Gaining the support of emperors and royalty, the religion's teachings spread rapidly. Indian dignitaries were invited to teach Buddhist philosophy and many sutras were introduced in China.
Mao Zedong, who was famously hostile toward religion, did not ban Buddhism outright, but many temples and Buddhist organisations were soon overtaken by the state.
When China brutally suppressed Tibetan Buddhism in 1959, this was supported by the government-controlled Buddhist Association of China. During the Cultural Revolution, many Buddhist holy sites were ravaged, but following Mao's death in 1976, the suppression of Buddhism and other religions eased somewhat.
Like many young urban Chinese, a man in his thirties who gave his nickname as Eddie has turned to Buddhism to find meaning in his life. Buddhism has helped him answer questions about mankind's purpose and about what comes next, he says.
"It shows me a brand new world. It's like a light to guide my life, it gives me hope. It makes me understand the power of now," says Eddie. "I think I'm on the right track in connecting with myself."
But Duan Yuming, a professor at Sichuan University's Institute of Religious Studies, says that while interest in Buddhism is growing, very few Chinese can actually call themselves Buddhist. "They practice Buddhism just for peace of mind."
Still, even a cursory interest is a good thing, Duan tells IPS.
"Buddhism is a spiritual development leading to true happiness. Buddhist practices, such as meditation, are a means of transforming oneself and developing the qualities of awareness, kindness and wisdom….Chinese people today are always urgent to do things. They don't even know how to relax. Meditation can help them find peace of mind," he says.
Over the past decades, Buddhist monuments have been erected and restored across China, and tourism to Buddhist and other religious sites has increased. In 2006, China organised the World Buddhist Forum, and the next year banned mining on Buddhist sacred mountains.
Part of the rising interest in Buddhism stems from a growing fascination with Tibet. Although the vast majority of Chinese view the Autonomous Region as an inalienable part of China, many urban Chinese think of Tibet as a romantic, rugged frontier. As a result, tourism to the capital, Lhasa, and beyond has exploded in recent years.
Duan says that the growing interest in Buddhism among the majority Han Chinese can help improve understanding of and relations with Tibet – something the exiled Dalai Lama, who fled China for India in 1959, has said himself.
He told his biographer, the author Pico Iyer: "If thirty years from now Tibet is six million Tibetans and ten million Chinese Buddhists, then maybe something will be O.K."