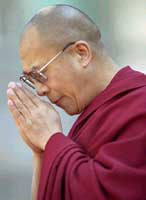 The Tibetan spiritual leader was to arrive Monday in the Mongolian capital, Ulan Bator, almost four years after his last visit, which China condemned as part of an international campaign to promote political autonomy for Tibet.
The Dalai Lama is being welcomed by the largest Mongolian monastery, Gandantegchinlen, where monks and workers were touching up paint work Sunday in preparation for his arrival.
The main road from the airport into town was being festooned with dozens of posters showing the Dalai Lama's image and slogans wishing him long life.
Although his official schedule had yet to be announced, the Dalai Lama was expected to hold a series of lectures for the public and members of the Buddhist clergy and was to stay at a special government guesthouse outside the capital.
It was not clear whether the Mongolian president, Nambaryn Enkhbayar, would meet with him.
In interviews in Ulan Bator, Mongolians, who are overwhelmingly Buddhist, said they regarded the Dalai Lama as a voice for morality and his visit as an affirmation of their country's newfound freedoms, 16 years after the end of one- party Communist rule.
"I'm glad the Dalai Lama is coming to Mongolia despite China's displeasure," said Batkhuu, 46, a high school teacher, who like many Mongolians uses one name.
Tserendorj, a 73-year-old monk who traveled from rural Dashpeljee monastery soon after hearing of the visit, said he planned to join in the Dalai Lama's public activities, partly as a celebration of Mongolian religious freedom.
"During Communist times, I had to hide my prayer beads and books from the authorities and practiced my religion secretly," Tserendorj said.
China routinely rails against such visits and castigates him as a religious fraud bent on separating Tibet from China.
Although China has yet to issue any formal statement on the Dalai Lama's visit, news of which was only officially announced late last week, Beijing has recently ratcheted up its rhetoric against the leader.
"His visits abroad are merely for the purpose of scraping together anti- Chinese elements and propagandizing and peddling his Tibetan independence thinking," a hard-line Communist leader in Tibet, Zhang Qingli, was quoted as saying Aug. 8 by the Xinhua press agency.