Dalai Lama Begins Visits in Mongolia
By CHRISTOPHER BODEEN, The Associated Press, Aug 22, 2006
ULAN BATOR, Mongolia -- The Dalai Lama met with worshippers in Mongolia on Tuesday, and the Chinese Embassy said it had no plans to protest his visit following assurances he wouldn't take part in political activities.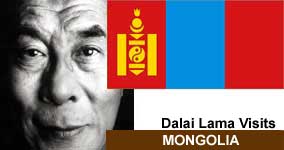 The exiled Tibetan Buddhist leader was greeted by thousands of believers and tourists at Mongolia's largest Buddhist monastery, Gandantegcheling temple, in the capital Ulan Bator.
Seated on a cushioned throne before the main temple hall of whitewashed brick, he delivered an address stressing the importance of traditional family values while worshippers strained against police lines to get closer.
"These are the values that sustain us through difficult times of change," the Dalai Lama said.
China, Mongolia's powerful neighbor to the south, considers the Dalai Lama a troublemaker bent on freeing Tibet from Beijing's rule. It had been widely expected to protest his visit. Beijing responded to the Dalai Lama's 2002 visit to Mongolia by cutting off rail links for two days.
But asked whether China was planning a new protest, a spokesman for the Chinese Embassy in Ulan Bator referred reporters to a statement issued Monday night by the Mongolian Foreign Ministry describing the Dalai Lama's visit as a "purely religious matter and nonpolitical."
"We do not have any additional statements or comments on the issue at present," said the spokesman, who declined to give his name as is common practice among Chinese bureaucrats.
That stance appeared to indicate a wait-and-see attitude to the visit _ the seventh to Mongolia by the Dalai Lama since 1979 _ a likely result of Mongolia's efforts to keep the weeklong trip low-key.
Organizers didn't publicize the visit until last week and have kept the Dalai Lama's schedule under tight wraps. He is being housed at a secluded guest house 45 miles from the capital and much of his time here will be spent in closed meetings with local Buddhist clergy hoping to settle factional disputes.
China routinely calls on countries not to let the Dalai Lama visit, often hinting at possible diplomatic or commercial retaliation. Communist Party newspapers this month have criticized such trips as an effort to rally anti-China forces and realize Tibetan independence.
Beijing claims to have ruled Tibet for centuries, though the country was effectively independent when communist troops arrived in 1950.
The Dalai Lama fled to India following an abortive 1959 uprising against Chinese rule. A recipient of the Nobel Peace Prize, he travels widely as a speaker on religion and morality and a representative of Tibetan culture.
Earlier Tuesday, the Dalai Lama arrived at the temple, smiling and waving to the crowd, many of whom held up silk scarves as a sign of greeting. A group of elderly women chanted Buddhist scripture while other visitors spun prayer wheels.
The Dalai Lama then entered an inner compound where he walked up a yellow silk carpet beneath a yellow parasol amid swirling incense smoke as monks blew trumpets and crashed cymbals. Entering a prayer hall, he mounted a raised dais while bowing monks chanted, receiving food offerings and bestowing blessings.
"Every time he visits, he brings good fortune to Mongolia," said Baamba, a retiree who like many Mongolians uses just one name.
Mongolians have strong historical links to Tibet and have traditionally followed Tibet's esoteric, or Tantric, school of Buddhism. A 16th-century Mongolian king is thought to have bestowed the first Dalai Lama title _ a designation which means "Ocean of Wisdom." In 1904, the 13th Dalai Lama took refuge in Mongolia, a landlocked nation sandwiched between China and Russia, when the British invaded Lhasa, Tibet's capital.
On Wednesday, the Dalai Lama was due to lecture to a public audience in Ulan Bator's main stadium.