China condemns Mongolia for hosting Dalai Lama
New Zealand Herald (Reuter), August 23, 2006
BEIJING, China -- China has condemned Mongolia for playing host to Tibetan spiritual leader the Dalai Lama who is on a visit to China's northerly neighbour, a state newspaper said on Wednesday.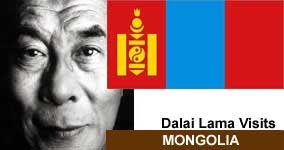 "The Chinese government strongly opposes... any country providing the Dalai Lama with a venue for his separatist activities," the official China Daily quoted the Foreign Ministry as saying.
"The Dalai Lama is not a simple or pure religious figure. He is a political exile who undertakes secessionist activities abroad and damages the unity of nationalities," it further quoted the ministry as saying.
The Nobel Prize-winning Tibetan leader-in-exile, who fled his homeland in 1959 after a failed uprising against Chinese rule, is considered by Beijing a "splittist", or separatist.
The Dalai Lama has proposed a "Middle Way" policy seeking autonomy but not independence for Tibet, but there has been little compromise in the limited contacts the Chinese and Tibetan exiles have had.
Buddhist followers flocked to the Mongolian capital, Ulan Bator, this week placing signs and billboards along the streets welcoming the Dalai Lama and wishing him a long life.
Buddhist monastic life, which took hold in Mongolia in the 1500s, was nearly wiped out within 15 years of communist rule, mostly during Stalinist purges in the 1930s when an estimated 17,000 lamas were executed.
But since the country emerged from decades of Soviet dominance in 1990, the Yellow Hat sect of Buddhism - also practised in Tibet - is making a comeback.
Before Monday, the Dalai Lama had visited Mongolia five times since the early 1990s, most recently in 2002.